March Break Theatre Camp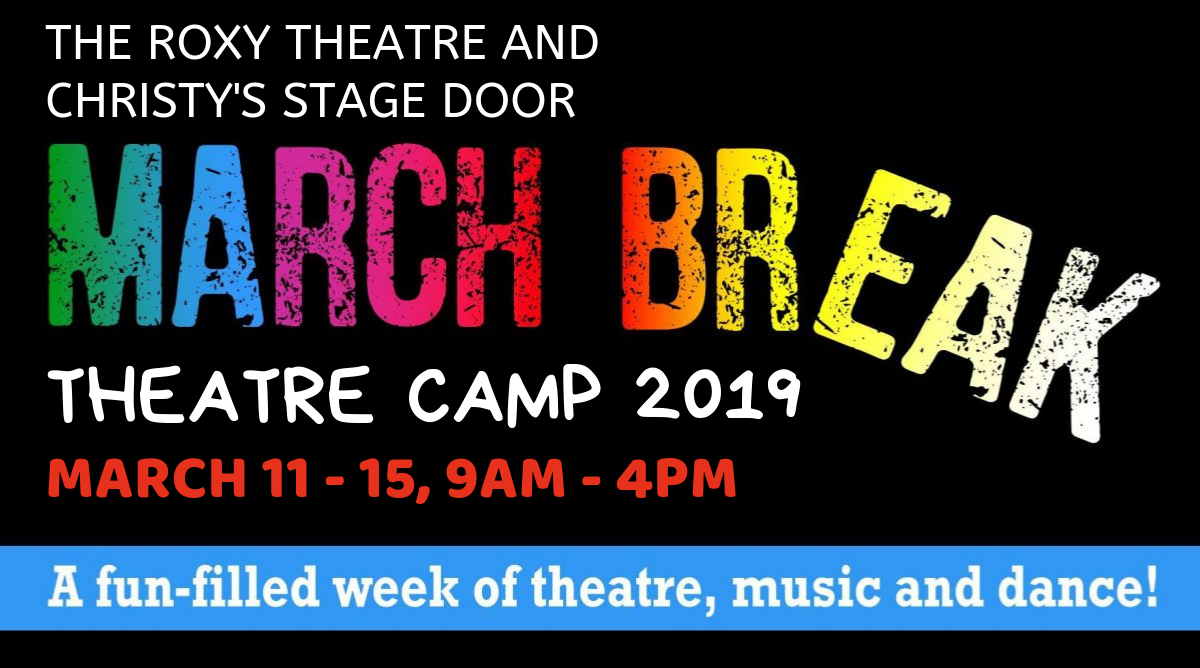 Do you have a flair for the dramatic? Join us!



The Roxy is once again offering its popular March Break Theatre Camp.
Led by Priscilla Taylor, this five-day camp is designed for youth aged 8-15. Campers will:
Sing and Act
Learn scenes, monologues and skits
Explore your creative side, discover your talents and have loads of fun!
As with our summer camp programs, we always offer a variety of new content to stimulate and challenge youth of all age levels. This exciting week will include an exploration into theatre games and exercises, stage direction, tableaux, blocking, building dramatic scenes, role-playing, storytelling, and narrative songs from musicals.
Please note that this year's camp will be held at The Harmony Centre.
March 11-15, 2019 from 9 am to 4 pm
Cost: $225 | $200 for second child

If registering online, please email your completed registration form to the box office: boxoffice@roxytheatre.ca
Parent/Guardian Information
Please send your child with a bagged lunch and nutritional snacks. The instructor requests that children bring water, rather than juice, pop, power drinks, or high-sugar junk food, please.
Please ensure your child has their OHIP card on their person throughout the course.
We require at least 15 participants, with a maximum of 20.

                                   Spots fill quickly – please register early!
Priscilla is an award-winning Toronto-based actor and theatre maker. She graduated from the Classical Theatre program at George Brown College in 2015. Favourite roles include Bobbi (Some Girls, English Theatre Düsseldorf), Emily (Our Town, Theatre Rusticle), Young Woman (My Child, Haus of Casati Theatre), Betty Paris (The Crucible, Kindling Collective), Sarah (Raghead, InspiraTO festival), Gretchen (Faust, Theatre by the Bay), Mary Stuart (Mary Stuart, GBTS), Anna's Shadow (Anna Karenina, GBTS), Ase Gynt (Peer Gynt, GBTS), Livia (Women Beware Women, GBTS), Paula Tanqueray (The Second Mrs. Tanqueray, GBTS), Maureen (Rent: The Musical, ESA), and Anne (Anne of Green Gables, OSLT). Awards: 2016 My Entertainment Theatre Award for Outstanding Production (My Child, Haus of Casati Theatre), 2015 InspiraTO festival Jury's pick (Raghead).
Priscilla has been facilitating and co-directing youth/teen theatre camps with Christy's Stage Door and The Roxy Theatre for the last three summers and is excited to be returning over the March Break to continue sharing her knowledge and love of theatre to the talented youth of Owen Sound.
---
"The theatre camp was life changing for our daughter! Christy and her staff did a great job teaching and preparing the kids. We were amazed at what a professional performance the kids put on after only 2 weeks! We noticed a huge improvement in our daughter's confidence and independence. She had a great time and still sings the songs around the house – 6 months after the camp finished!" – quote from a mom after last year's summer camp