Roxy Theatre Charity Golf Tournament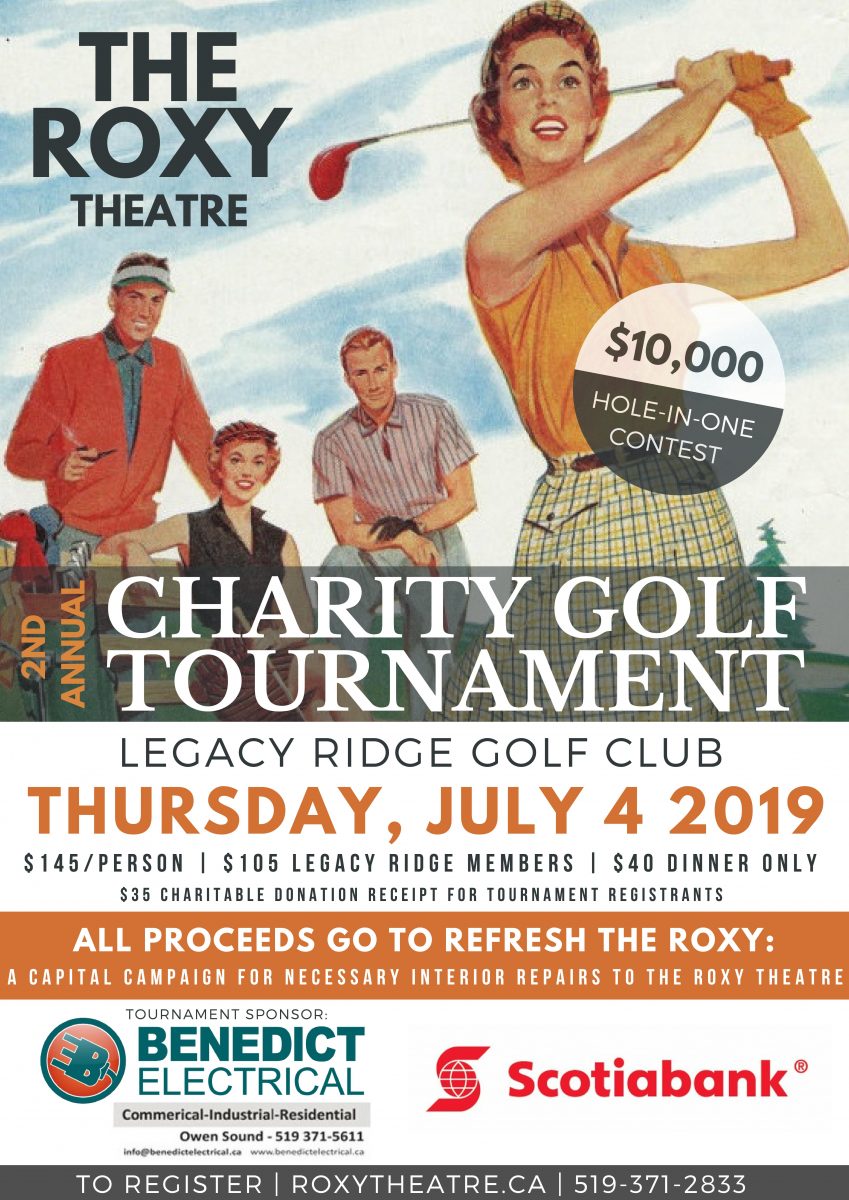 2018 Refresh the Roxy Charity Golf Tournament
Members of OSLT extend their heartfelt thanks to all the golfers and sponsors that made our inaugural 2018 tournament such a success. Over $4,500 went directly towards the Refresh the Roxy Campaign.
Our 2018 Sponsors and Donors:
The Little Family (Peter & Nonie, Christopher & Katherine), Walker Family Financial, Joe  Tomato's, Zehrs Markets, Kristen Norrish – Remax Realty, Décor Design, Benedict Electrical, John A. Tamming, Luckydog Motors, Nathaniel's Restaurant, McArthur Tire, Dr. Heather Davidson – Optometrist, Hal Wright Chev Olds, Sunpoint, Kia Owen Sound, Middlebro' & Stevens L.L.P., Velocity Gym, Staples, Jazzmyn's, Boston Pizza, Tyler Beckett – Sun Life Financial, Agnes' Bookkeeping Service, Infinity Network Solutions, Maclean's Ales Inc., Ideal Supply, Gord Kelly & Gayle Spencer, Mitsubishi, Andrew Dinsmore & Jean Koraway, Jack Goad & Laura Wood, Tom Potter & Donna Fisher-Potter, Don Sankey, Ruth Nielson, Brian Davenport – RBC Dominion Securities, Caframo, Old Guys Garage, Stone Tree, Legacy Ridge, The Spa West on 9th Street, The Professional Building, The Co-operators, Bill Graham – Foodland & CIBC.
We encourage our members & patrons to consider doing business with them, letting them know you appreciate their support of our wonderful theatre!
Save the Date: July 4, 2019 for our next tournament.  See you on the Green!!
The Roxy Charity Golf Tournament Organizing Committee
Memories from the Roxy Theatre 2018 Charity Golf Tournament