Step 1: Go to our main website www.roxytheatre.ca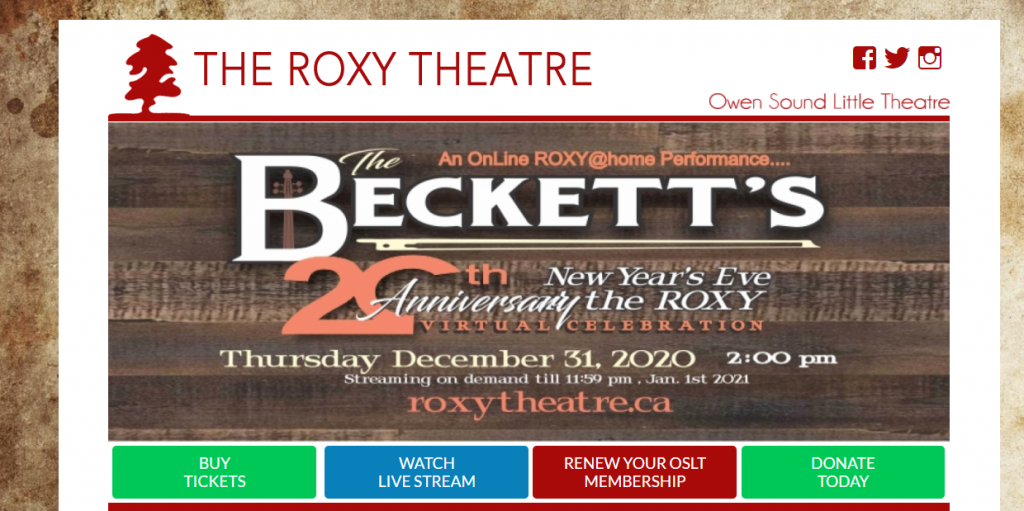 Step 2: Click on the green BUY TICKETS button.

Step 3: This will take you to our ticketing website www.tickets.roxytheatre.ca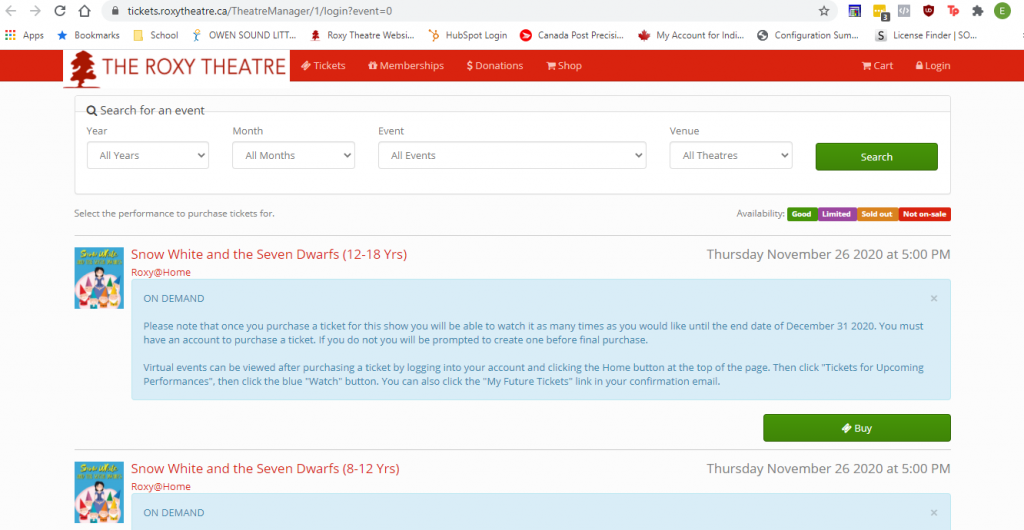 Step 4: Find whichever show you are purchasing tickets for and click the green Buy button.

Step 5: Choose how any tickets you want to purchase (the default is 1) and click the green Buy Tickets button.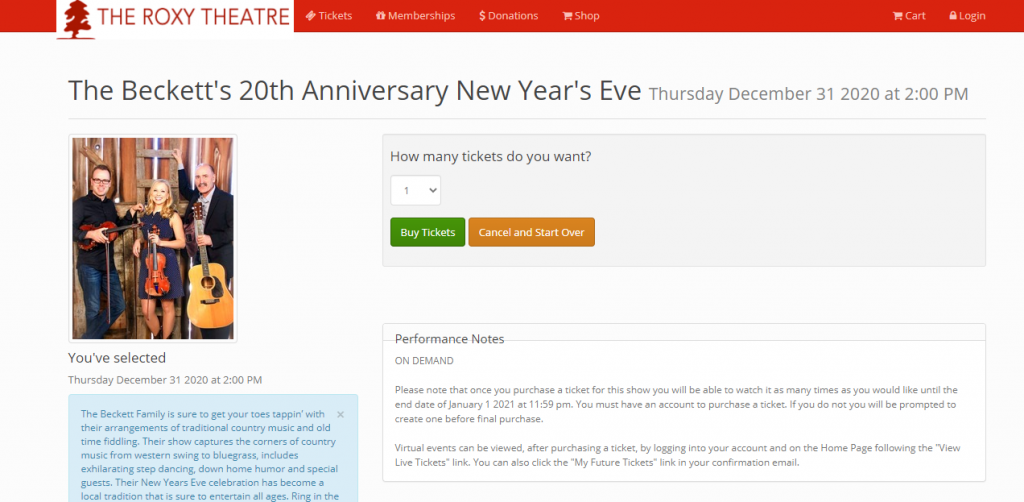 Step 6: Choose the price from the drop down menu under Price Selection. Then click the green Buy Tickets Shown Above button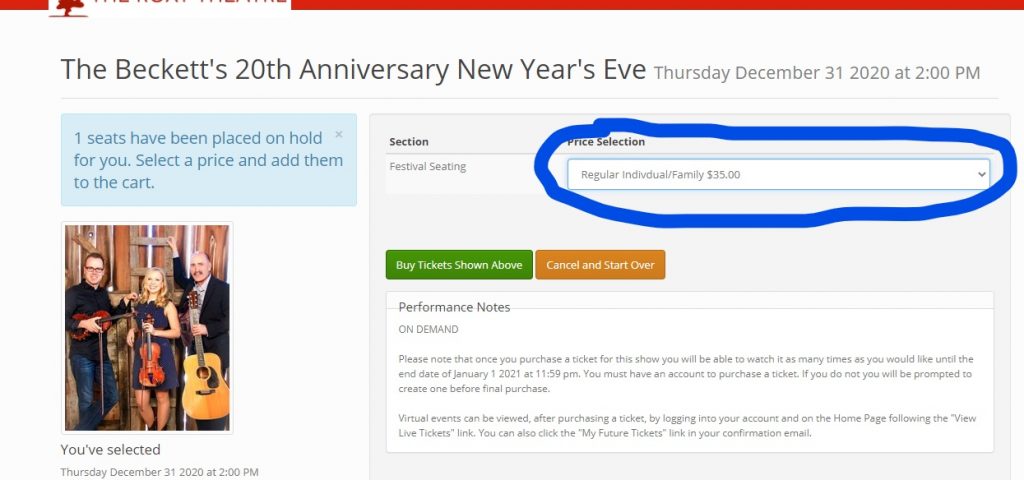 Step 7: This will take you to your cart where you can look over your purchase and make changes if you wish.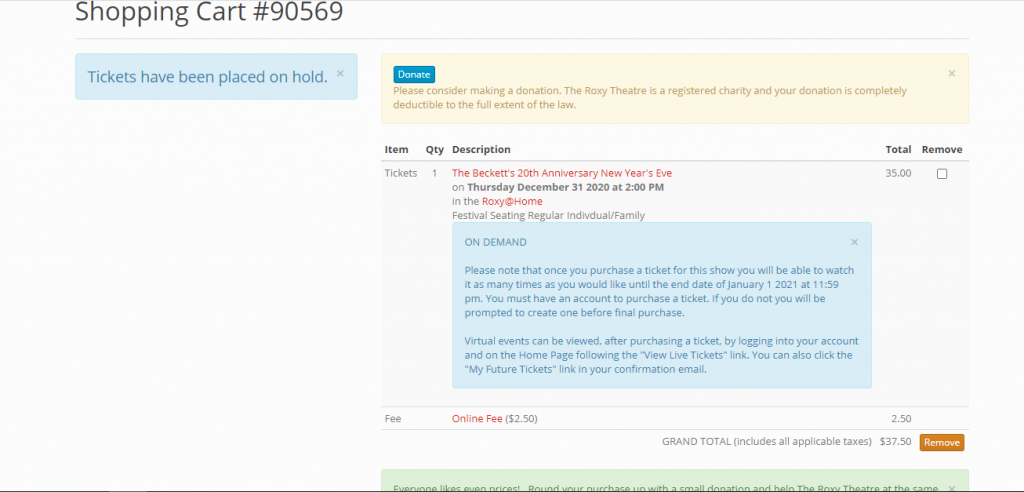 Step 8: Once you have looked it over click the green Checkout & Pay button at the bottom of the screen.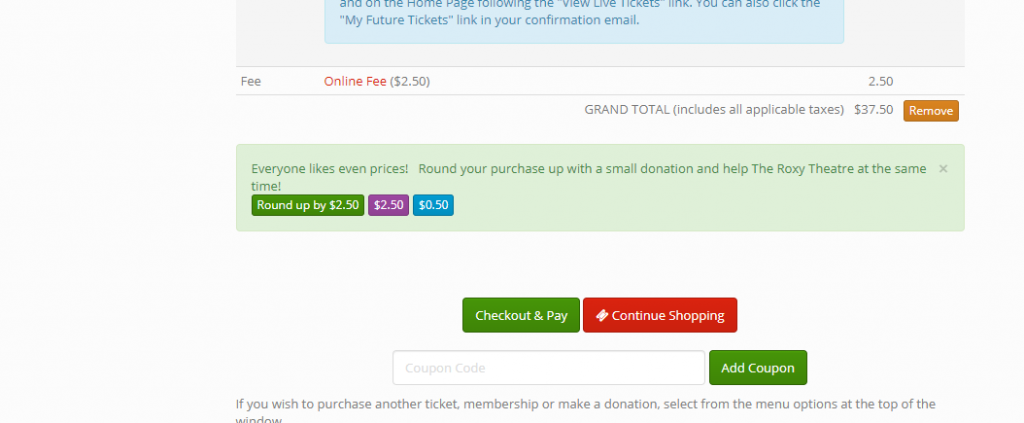 Step 9: You will now be prompted to log in to your account. If you have already set up an account and know your password you can enter it now and continue to Step 15. If you have set up an account but forgotten your password continue to Step 10. If you have never set up an account before continue to Step 20.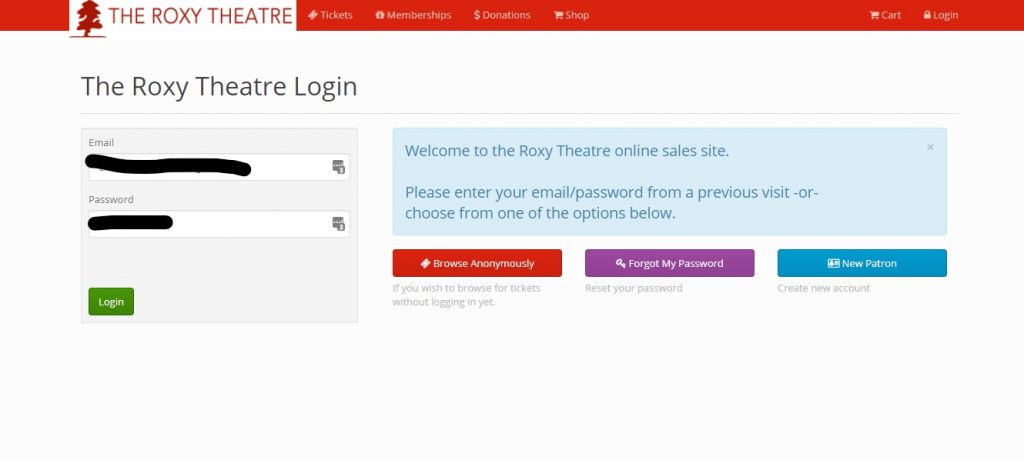 Step 10: If you have forgotten your password click the purple Forgot My Password button.

Step 11: On the new screen enter your email address and click the green Reset PW and Email Instructions button.

Step 12: Once you have sent that email go to your email inbox and open the email from The Roxy Theatre about resetting your password. Click the Connect and enter a new password link.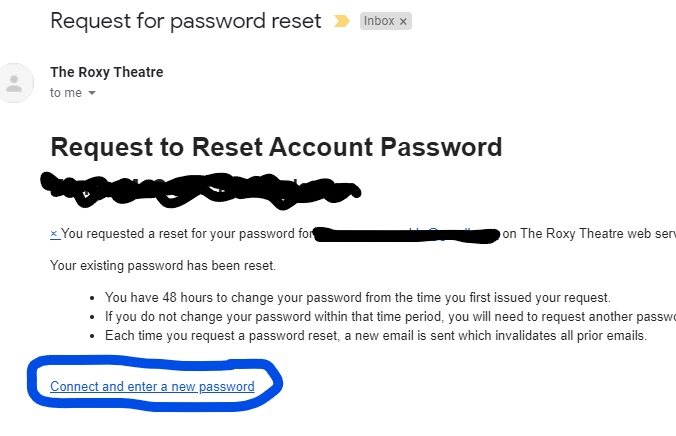 Step 13: On the new screen enter in your new password and then enter it in again and click the green Save New Password button.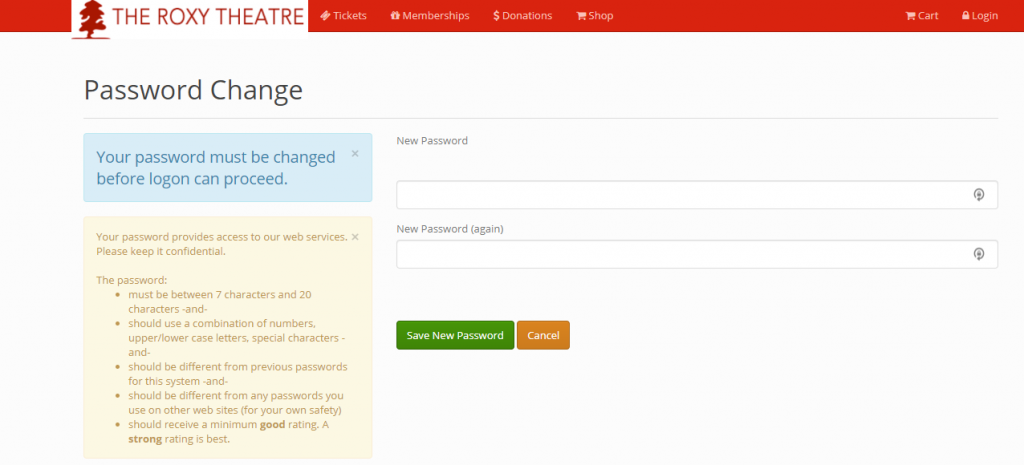 Step 14: You will either be taken directly to your payment screen or to your account. If you are taken to your account simply click the Cart icon in the top right corner and then click Checkout & Pay again.
Step 15: You will now be asked to enter your credit card information. Make sure you fill everything out correctly.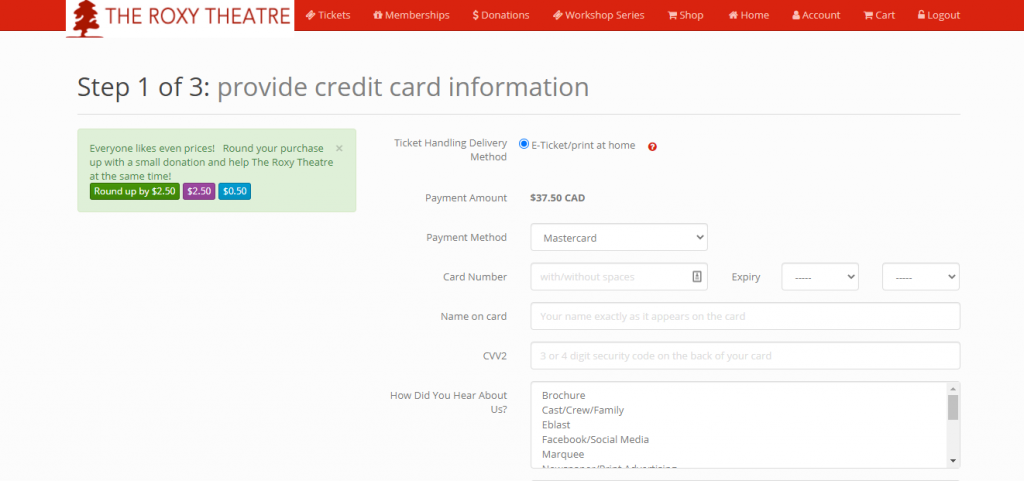 Step 16: After entering your information click the green Continue to Step 2 of 3 button and follow the prompts until it asks you to charge your credit card now.

Step 17: After the successful purchase you will receive a confirmation email. There is a link in the confirmation email that says My Future Tickets. Click that.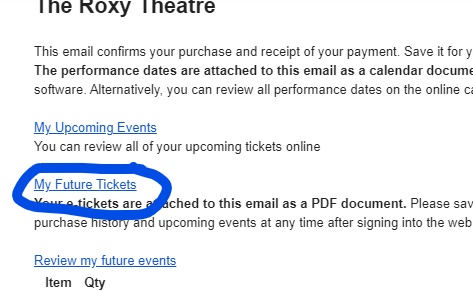 Step 18: You will be taken to this screen where you can then press the red Watch button. (you may need to log in again if you aren't doing this right after purchase)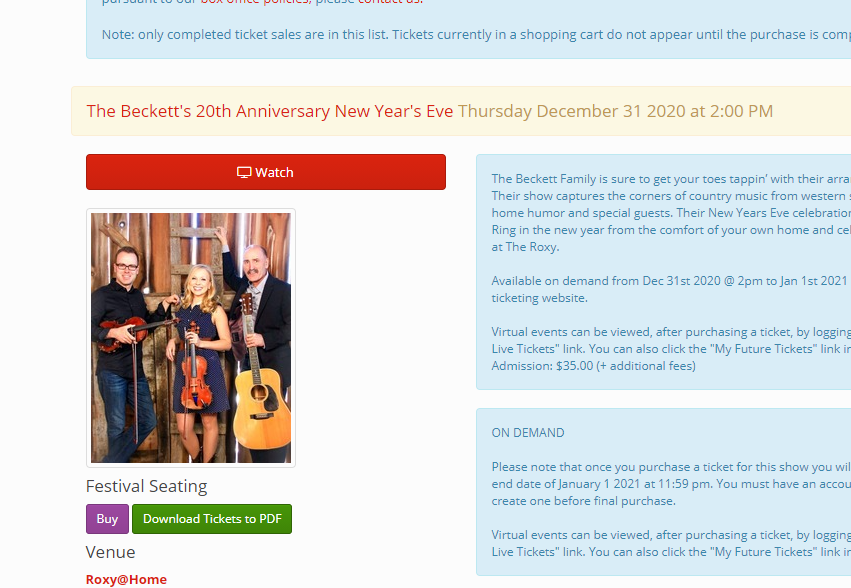 Step 19: You can now enjoy your show when it becomes available for streaming!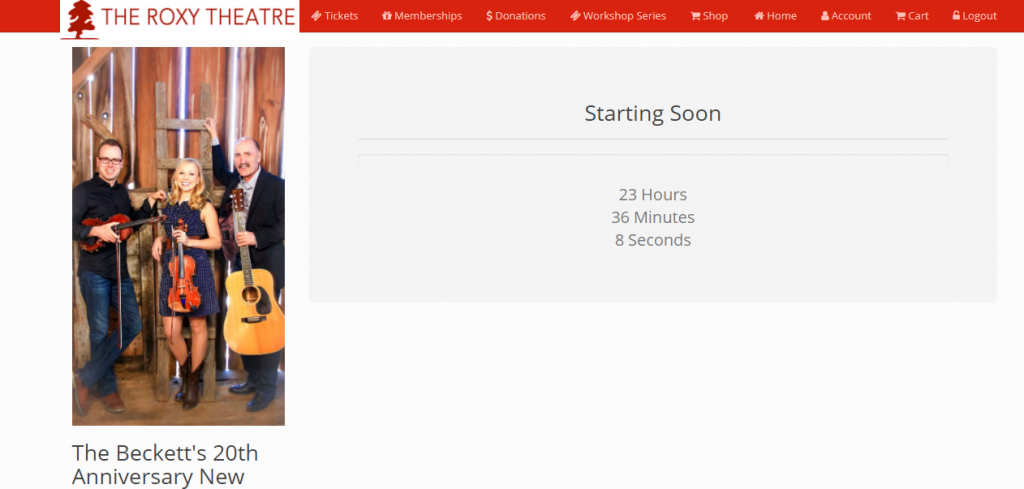 Step 20: If you need to create a new account click the blue New Patron button.

Step 21: You will need to enter in your information. Email, create a password, First and Last name, address and phone number. Once you have entered this you can click the green Create Account button on the bottom. Once you have done that you will automatically be taken to the payment screen. To see payment instructions please see steps 15-19.

If you cannot access your confirmation email you can access your tickets anytime by logging in and clicking the Home button in the top red bar and then clicking Tickets For Upcoming Performances.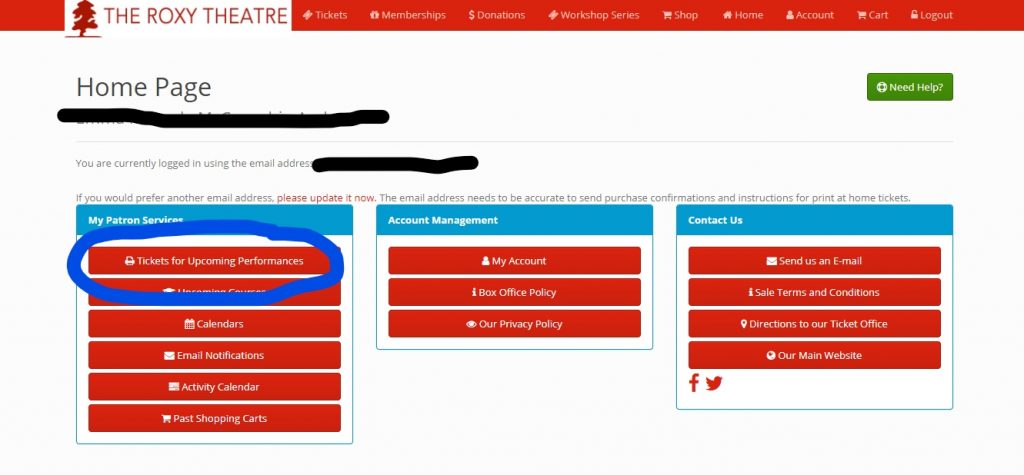 Thank you for supporting The Roxy Theatre and we hope you enjoy your show!