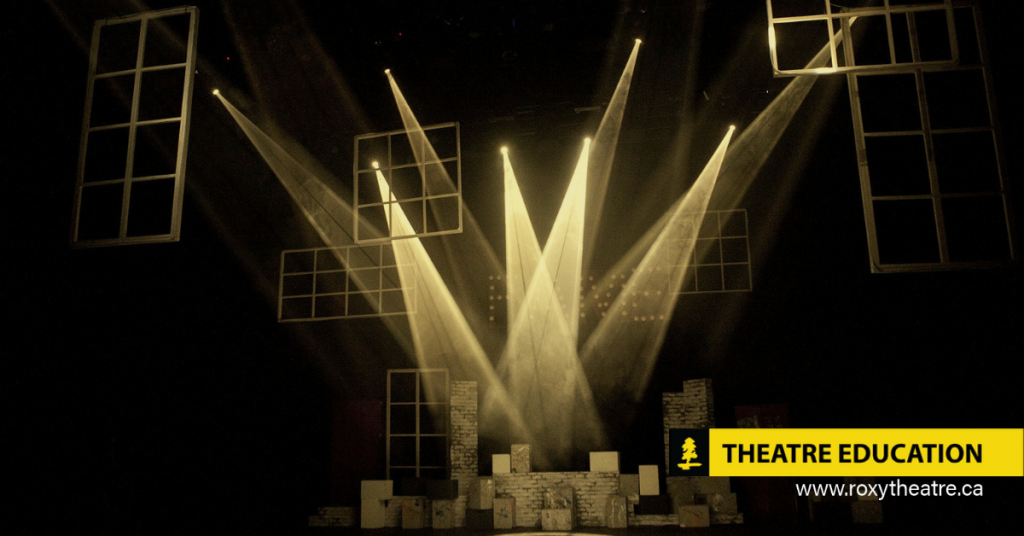 The first pillar of the Roxy Youth Program is Theatre Education. Our goal is to create engaging opportunities for youth to learn about how a theatre works, how productions are created, and how they are presented to the world.
CURRENT PROGRAMS
---

Theatre Workshop Series – One Day per Month, 10 AM – 12 PM (Sat or Sun)
AGE RANGE
MAXIMUM
PARTICPANTS
LOCATION
VIRTUAL
PARTICIPATION
Youth Age 8 to 18
20 per workshop
Roxy Theatre
Owen Sound*
Via Zoom
Watch for Adult Workshop Details Pending (planning for 1 PM – 3 PM the same Saturday as the Youth Workshop)
*Programming is in-person unless Public Health requirements change. Workshops may transition to Virtual Programming, or be postponed and rescheduled at a later date, as determined by the RYP Coordinator and Workshop Expert.
PRICE PER WORKSHOP
$37.50 + HST per Workshop
Theatre Workshops are intended to appeal to special interests and are a one-time educational experience. Content is accessible, relatable and well defined. Our workshop experts are engaging, patient, and instructive, while maintaining a safe environment to explore and be creative.
Workshop Name
Expert
Date
Time
Acting 101
Corry Lapointe
September 11, 2021
10 AM to 12 PM
Theatre Lighting
Bill Murphy
October 9, 2021
10 AM to 12 PM
Introduction To
Scriptwriting
Christopher McGruer
November 13, 2021
10 AM to 12 PM
Choreography
Paula Mercer
December 11, 2021
10 AM to 12 PM
Introduction to
Set Construction
Paul Nicholson
January 8, 2022
10 AM to 12 PM
Costumes
Joan Spence
February 12, 2022
10 AM to 12 PM
Scenic Painting
Terry Burns
March 13, 2022
10 AM to 12 PM
Improvisation
Enio Mascherin
April 9, 2022
10 AM to 12 PM
Choral Singing
Sandy Lemaitre
May 15, 2022
10 AM to 12 PM
Stage Combat
John Flynn
June 11, 2022
10 AM to 12 PM
Note: Workshops are planned for in-person participation. Due to the COVID-19 pandemic, strict safety measures will be in effect. Workshops may transition to Virtual Programming, or be postponed and rescheduled at a later date, as determined by the RYP Coordinator and Workshop Expert. Before registering, participants should consider their capacity to join in either format.
---
More About The Workshop Series
The Roxy Youth Program Workshop Series is aimed at educating youth in the activities of live theatre.
The program is supported by the Roxy Youth Program Team and contracted experts. Parent volunteers and Roxy OSLT Members support programming efforts as needed.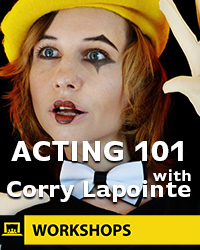 In this course, OSLT actor and director Corry Lapointe will cover basic techniques on how to understand a story and what a character must do to tell that story. Participants will use what they have learned to tell a story through a character.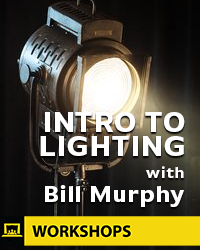 Introduction to lighting will begin to develop an awareness of the importance of light to a production. Students will learn about the sources of light and mechanics of light shaping. This workshop will be led by Lighting Designer and Operator Bill Murphy.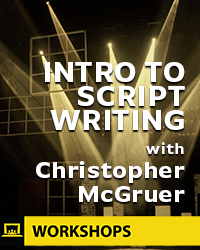 Participants will be introduced to the art and craft of storytelling in theatre. They will explore the building blocks of scriptwriting through character, conflict and situations that create what every story needs: Drama!'
Join dancer and choreographer expert Paula Mercer, as she teaches you choreography dance moves to popular musical theatre songs! All skill levels welcome!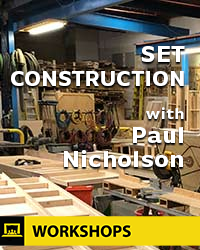 Set designer and builder extraordinaire, Paul Nicholson, will introduce participants to materials and methods for set construction. They will also get to see the process of set building from drawings/models to full scale pieces.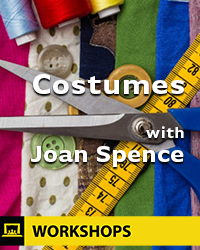 Join Joan Spence as she takes you on a behind the scenes tour of the costume closet! She will also dive into how the productions choose costumes based on the plays setting and time period. She will also explain how costumes work with lights, props and sets to create a cohesive piece!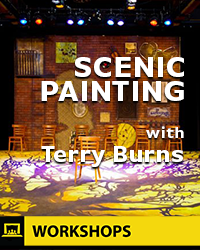 Participants will learn about techniques, tools and materials specific to stage painting, a visual art form that challenges because of its scale and viewing distance. Techniques will include trompe l'oeil, layering and breaking down. Led by visual artist and writer Terry Burns.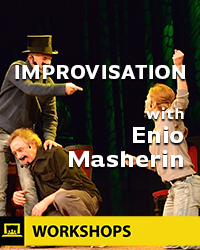 Improv is more than just fun and entertaining, improvisation improves teamwork skills and the creative thinking process. This workshop will introduce you to concepts and exercises used by The Second City Toronto and TheatreSports. Participants should be prepared to perform with, and for, your classmates. Led by Enio Masherin.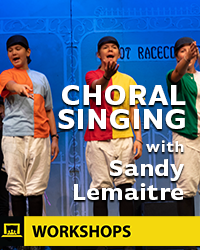 Have you ever wanted to learn how to sing in a group? Join Sandy Lemaitre as she teaches the basics of choral singing! Participants will work together to learn vocal parts of some hit musical theatre songs.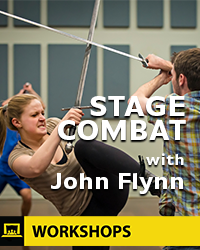 Stage Combat is a specialized art form for the language of fighting on stage. This workshop will teach performers how to keep themselves, and others safe, while performing fight choreography. Led by John Flynn.
Registration is Now Open! Click on the Workshop link or go to the Buy Tickets Tab!
Please note that spaces are limited and filled in a first come first served basis. Payments will be processed online via the Roxy ticketing system. Any questions can be submitted via email to youthprogram@roxytheatre.ca
Refunds and Cancellations Policy
Sponsors
Our Workshop Series Programming would not be possible without the support of our sponsors. Thank you for your continued support of Theatre Programming in Grey Bruce.
Behind the Scenes of an OSLT Show