« Back to Events
This event has passed.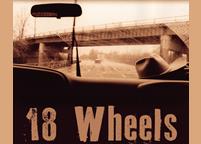 Climb aboard a big rig, buckle up and hold on to your cowboy hats and ball caps as you revisit the landscape along the Trans-Canada Highway. Experience ordinary work-a-day Canadian life through these extraordinary stories in this country-themed mini-musical. Over and out! 10-4!
18 Wheels – May 29-31, June 4-7, 2014 at 7:30 pm.
By John Gray
Directed by Goldie Walma
An Owen Sound Little Theatre Production
Adult $23 Student $11.50 Senior $21 Member $11.50
Subscription seats for 18 Wheels and all other productions in OSLT's 53rd Annual Playbill are on sale now. Individual tickets will go on sale after July 2, 2013.
Buy tickets for Owen Sound Little Theatre opening night or What a Deal Wednesdays and receive 20% off adult and senior tickets! Group bookings of 10 or more save $2.00 per ticket as available for OSLT/Roxy shows. Group rates cannot be combined with other discounts. No refunds. Thank you
iCal Import
+ Google Calendar