« Back to Events
This event has passed.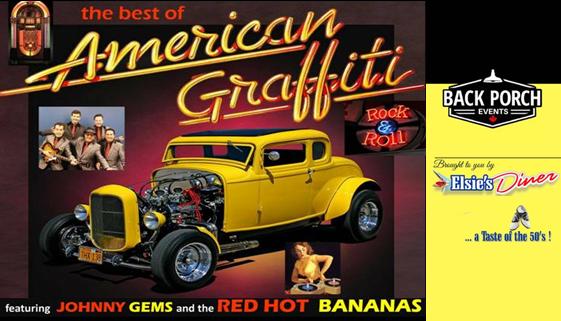 Johnny Gems and the Red Hot Bananas brings back to life every major hit, from every major artist, from the Rock 'n' Roll era of the 50s and 60s. They are a 5 piece band with an array of concerts behind them collectively performing for 30 years on the theater stage.
You'll hear hits by Elvis, Chuck Berry, Little Richard, Jerry Lee Lewis, Fats Domino, Bo Diddley and Bill Haley and the Comets! Also included are the Rockabilly classics by Eddie Cochrane, Gene Vincent and Buddy Holly.
The Doo Wop era with groups like The Diamonds, The Del Vikings and Dion and the Belmonts! Into the 1960s with The Beatles, The Rolling Stones, Herman's Hermits, The Animals, Gerry and the Pacemakers and many others from the British Invasion!
And also including American Pop artists like the Beach Boys, The Young Rascals and the Motown and Soul sound of The Four Tops, The Temptations, Marvin Gaye and Smokey Robinson and the Miracles!
Johnny Gems and the Red Hot Bananas are fast becoming one of the most sought after nostalgia groups which brings fun and life back to the Rock and Roll stage. Rock and Roll is Here to Stay!
We invite you to join us for Elsie's Diner, Twin Bill "Flashback to the 50's!
Take a trip back in time with a great meal at Elsie's followed by a concert at the Roxy! The 50's 60's Era was truly a cherished era. You can still enjoy the essence of those times and travel down the memory lane by attending Johnny & The Red Hot Bananas "The Story of Rock & Roll" OR Jersey Seasons tribute to Frankie Valli and the Four Seasons & Jersey Boys, or both! Each concert is dedicated to golden years of music.
iCal Import
+ Google Calendar