« Back to Events
This event has passed.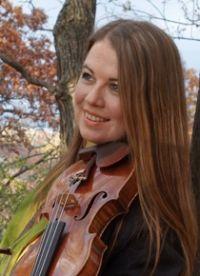 Leith Summer Festival – CONCERT THREE
Saturday August 2, 2014 – 7:30 p.m.
Musical Mosaic
Lara St. John(violin) and Serouj Kradjian(piano)
Canadian-born violinist Lara St. John – has been described as "something of a phenomenon" by The Strad and a "high-powered soloist" by The New York Times.
She has performed as soloist with the orchestras of Cleveland, Philadelphia, San Francisco, Seattle, the Boston Pops, Toronto, Montreal, Vancouver, the Royal Philharmonic Orchestra, NDR Symphony, Zurich Chamber Orchestra, Ensemble Orchestral de Paris, Strasbourg Philharmonic, Bournemouth Symphony, Ulster Orchestra, Camerata Ireland, Belgrade Symphony, Amsterdam Symphony, and the Akbank Chamber Orchestra in Turkey, among others.
A prolific recording artist, Lara owns and runs her own label, Ancalagon, which she founded in 1999. Her first Ancalagon recording, Bach: the Six Sonatas & Partitas for Violin Solo was the best-selling double album on iTunes in 2007.
Lara began playing the violin when she was two years old. She made her first appearance as soloist with orchestra at age four, and her European debut with the Gulbenkian Orchestra when she was 10. She toured Spain, France, Portugal and Hungary at ages 12 and 13 and entered the Curtis Institute at 13.
Canadian pianist and composer Serouj Kradjian has established himself as a versatile artist whose readiness to break boundaries and explore different styles has made him an exciting voice on the international music scene.
The New York Times has described Juno award winning and Grammy-nominated Kradjian's playing as a "persuasive balance between elegance and spirit". The Globe and Mail called him "a keyboard acrobat" of "crystal virtuosity", and the Frankfurter Allegemeine said he had a "fiery temperament and elegant sound" with "a technique to burn".
Mr. Kradjian has appeared with the Vancouver and Edmonton Symphonies , Madrid Symphony, Göttingen Symphony, Russian National Orchestra, the Armenian Philharmonic and the Thailand Philharmonic under the baton of such eminent conductors as Bramwell Tovey, Stéphane Denève, Anne Manson, Gudni Emilsson and Raffi Armenian.
Tickets $25 / Students $15.  All Sales Final.
iCal Import
+ Google Calendar