« Back to Events
This event has passed.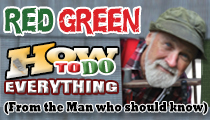 RED GREEN "HOW TO DO EVERYTHING" TOUR
A BRAND NEW SHOW – FROM THE SAME OLD GUY!
After a successful run of 139 shows throughout Canada and the USA on his "Wit and Wisdom Tour", Red Green is back in theatres across North America in 2013 with a brand new show – How To Do Everything – from the man that should know!
Red Green, Canada's foremost handyman, who became famous for such things as duct tape, Possum Lodge, and his own unique style of humour and wisdom now shares his thoughts on "How to do everything".  After establishing himself in fifteen seasons of his enormously popular TV show as one of the world's handiest men, he now shows there is no limit to his specialized knowledge and advice.
"When all else fails, play dead!"
"Never stand between electricity, and where it wants to go!"
"Never insult your surgeon, until after the operation!
"In an argument, the big guy with the chain saw is always right".
An evening with Red Green is always an evening of advice and laughter. Be there to experience it in person.
Sunday, September 15, 2013 at 3 pm at OSCVI. Tickets $59.50. All sales final.
iCal Import
+ Google Calendar