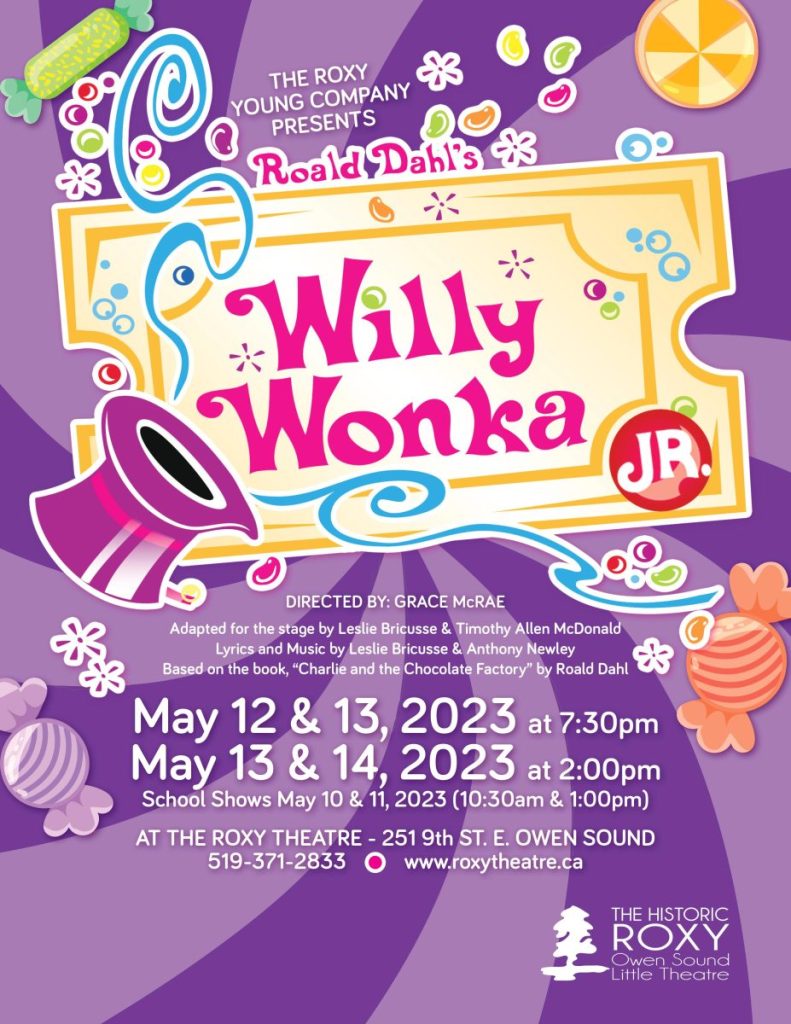 Roald Dahl's Willy Wonka JR. follows enigmatic candy manufacturer Willy Wonka as he stages a contest by hiding golden tickets in five of his scrumptious candy bars. Whomever comes up with these tickets will win a free tour of the Wonka factory, as well as a lifetime supply of candy. Four of the five winning children are insufferable brats, but the fifth is a likeable young lad named Charlie Bucket, who takes the tour in the company of his equally amiable grandfather. The children must learn to follow Mr. Wonka's rules in the factory — or suffer the consequences. Join the cast of The Roxy Young Company as they present this scrumdidilyumptious musical guaranteed to delight everyone's sweet tooth!

Directed by Grace McRae
Adapted for the stage by Leslie Bricusse & Timothy Allen McDonald
Lyrics and Music by Leslie Bricusse & Anthony Newley
Based on the book, "Charlie and the Chocolate Factory" by Roald Dahl
Dates: May 12 & 13 at 7:30pm and May 13 & 14 at 2pm

Please note this show may have some bright/flashing lights.
CAST
Brando Boone – Willy Wonka
Liam Kuzdak – Charlie Bucket
Aeil Sutter – Grandpa Joe
Bree Strickland – Mr. Bucket
Lily Brennan – Mrs. Bucket
Charlotte Parkin – Grandpa George
Ainsley Vail – Grandma Georgina
Macy Robinson – Grandma Josephina
Cash Robbins – Augustus Gloop
Milagros Gonzalez – Mrs. Gloop
Wesley Robinson – Mike Teevee
Jenna Davenport – Ms. Teevee
Elly Turner – Veruca Salt
Andrew Shepard – Mr. Salt
Braelynn Robinson – Violet Beauregard
Julia Strong – Mrs. Beauregard
Andie McGuire – Phineous Trout
Gwynfor Cox – Candy Man
Amelia Kuzdak – Matilda
Aubrey Hillyer – Jane
Lilah Glasser, Allie Mackay, Kaiya Witherspoon, Charlotte Downing, Lily Gray – Candy Kids
Milea Hiehn, Jonathan Strong, Maeryn Herrick, Ethan Cremasco, Ellie Stephen – Oompa Loompas
CREW
Grace McRae – Director/Musical Director
Lacey Mooney – Producer
Julia Bittorf – Stage Manager
Sandy Lemaitre – Stage Manager Mentor
Katherine Ruck – Assistant Stage Manager
Molly Solomon – Assistant Stage Manager
Kara Gibson – Properties

Anson Prettie – Properties Assistant
Trish Herrick and Amy Stewart – Wardrobe
Dan Herrick – Set Design and Lead Builder
Nicole Gardiner – Makeup

Bill Murphy – Lighting Design

Gary Byers – Technical Director
Miles Robart – Sound
Past Production – Matilda JR