AUDITION NOTICE
POSTPONED UNTIL 2022
Thank you for your interest. You can still peruse the audition packages below.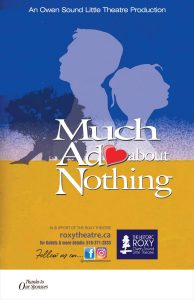 The Owen Sound Little Theatre Presents: Much Ado About Nothing
All audition materials are linked HERE. 
Thank you for your interest in auditioning for OSLT's production of Much Ado About Nothing!  Please carefully read through the audition package as it contains important information for you regarding what to expect from the time of your audition through to the production.  If you have any questions regarding scheduling of your audition please contact the Stage Manager, Jenny Vigliotti at 519-377-0620 (cell), or email jcvigliotti@gmail.com.  We look forward to seeing you at your Audition!
Much Ado About Nothing is a comedic play by William Shakespeare about misunderstandings, love and deception.  In order to make this production of Much Ado About Nothing more accessible, the OSLT production of the play has been shortened, set in the 1980s, intertwined with action, and features music from that decade.
Preparing for Your Audition:
Please read through all of the sides that are included in the audition package.  At the audition you may be asked to read a role you are not specifically auditioning for. You will NOT be required to have any of the scenes or monologues memorized, but you should be familiar with the lines and understand what they mean.
What to Expect – Auditions:
Auditions are organized as group auditions and will last 75 minutes. Please arrive 5 minutes prior to your audition time. During the audition you will be asked to sing with the group, take part in some movement exercises and read select scenes and monologues, which are listed below.  You are not required to have a prepared monologue or memorize the passages from the script.  However, we suggest you familiarize yourself with the passages for the character you wish to audition for and for those interested in a lead vocal role, you will be asked to sing an acapella version of the first verse and chorus from one of the following songs (singers choice): "Mad World" by Tears for Fears, "Good Thing" by Fine Young Cannibals, or "Tainted Love" by Soft Cell. For those who are interested in a chorus role, we will have you read the role of Dogberry, as well as the role of either Benedick or Beatrice.  Be sure to sign up for the correct audition slot, depending on which character/role you wish to read for.
Audition materials HERE.
AUDITION NOTICE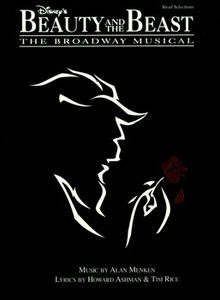 The Owen Sound Little Theatre Presents:
Disney's Beauty and the Beast!
Live on stage at the Roxy Theatre in 2022 in Owen Sound.
*Due to Covid 19, our audition and rehearsal schedule are TBD. We appreciate your patience as we work hard to bring Beauty and the Beast to the Roxy in 2022.