Auditions – Announcements – Workshops
Auditions
Monty Python's Spamalot

Auditions are June 25, 26 & 27, 2017 at 7:00 pm
Audition Information
So….. you want to audition for Spamalot.  Awesome!  Thank you for showing support for our show.  Here is what you need to know.
Preliminary Auditions are Sunday, June 25, Monday, June 26 or Tuesday, June 27 starting at 7:00 p.m.  Please email the director Kathleen Cassidy at cassidykg@gmail.com to book an audition for a specific day.  Be prepared to be at the theatre for 1.5 to 2 hours.
At the audition, you will sing a song, read a short selection from the script and do some dance or movement.
The script selection is attached. There is no need to memorize it but please be familiar with it.  We are looking for an English accent but it doesn't have to be a good one!
Please sing a song from Spamalot.  For Altos, Basses, Baritones and those auditioning for Patsy or the King, please use the first 41 bars ending at "last chance anyhow" from Always Look on the Bright Side of Life.  For Sopranos, Tenors, Baritones and those auditioning for Galahad or the Diva, please use The Song that Goes Like This and sing both parts ending at bar 49 "standing on my toes, this is….etc".  Our Music Director, Gord McConachie, will be available to accompany you or you may choose to use the Rehearsal Track (piano, bass and drums).  Music for both these pieces is available at the Roxy Box Office.
If you prefer, you may sing any other song from Spamalot with the Rehearsal Track for accompaniment. Please keep your selection under 2 minutes long.  When you book your audition, let us know what song you have chosen and what section of the song you are doing (if the song is longer than 2 minutes) so we can be ready for you.  You do not have to start at the beginning.
Our choreographer, Paula Mercer, will work with you in two groups, those who wish to dance in the show and those who will do some stage movement.  Please wear shoes that allow you to move and don't stick to the floor.
After your audition, you may be asked to return for a call back on Wednesday, June 27 and/or on Thursday, June 28. You may be given a reading from the script and/or another song.  Once again, there is no need to memorize.  The song selections will be Whatever Happened to My Part, I'm All Alone and/or The Knights of the Round Table with harmonies. The music director will take time on the callback evening to work with the group on these songs.
All of this music is available on youtube for your listening pleasure. We have chosen songs that use the same key as the Broadway productions.
Parts will be assigned in early July and cast will be given music and scripts to work on over the summer.  Rehearsals begin Monday, August 28th and will be on Sunday afternoons and 3 evenings per week.  The show runs from November 8th to 25th.
This is a big time commitment!  Be sure your schedule is clear.
Thank you for your interest and please email Kathleen if you have any questions.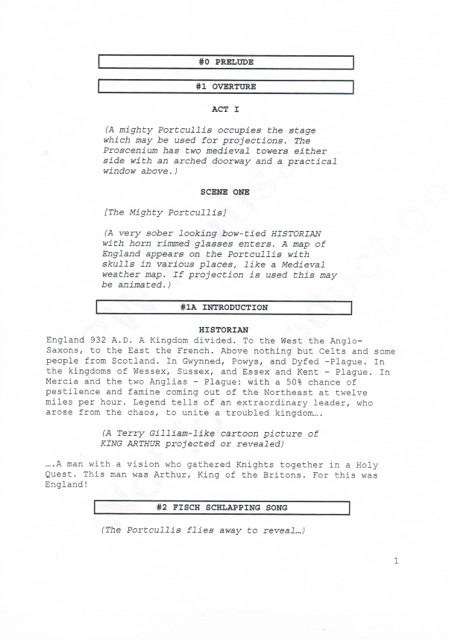 Workshops
More Workshops to be announced in upcoming months.