« Back to Events
This event has passed.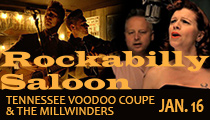 Tennessee Voodoo Coupe & The Millwinders
A "pay when you LEAVE for the value you RECEIVE" show*! Up out of the back streets of Toronto's Retro Rebel Underground comes Tennessee Voodoo Coupe, purveyors of "100 proof reckless hillbilly jive." With legendary "Swing Punk" pioneer Big Rude Jake on vocals and acoustic guitar, and Steve Good on the doghouse bass, their lineup is rounded-out with Stevie "Six String" Abrams on the twangy Gretsch guitar, and dashing Don Decouchay on a minimal stand-up drum kit. With this classic rockabilly arrangement, TVC tackles a broad mix of music, leaning heavily on early rockabilly, country, and some '40s jump blues, along with plenty of originals and a few unexpected surprises.
The four members of Toronto's Millwinders are no strangers to the Rockabilly scene. Together just over 3 years, this quartet has been making a name for themselves quickly, entertaining crowds with their traditional rockabilly, and R&B infused sound. With all four members handling vocal duties, the strength of "The Millwinders" truly is in the sum of its parts.
Thursday, January 16, 2014 @ 7:30pm
*Those who had purchased this show as a part of a series or as a full priced individual ticket will receive a refreshment ticket in thanks for their original purchase. Thank you!
iCal Import
+ Google Calendar