« Back to Events
This event has passed.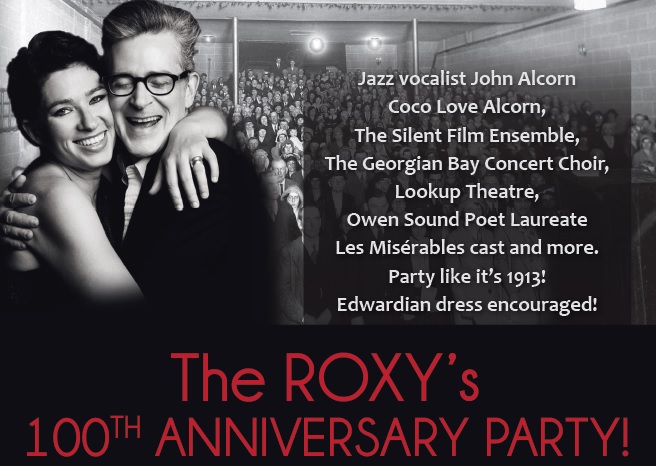 The Roxy's 100th Anniversary Party! – October 19, 2013 at  7pm
October 19, The Roxy celebrates its 100th anniversary with a multi-performer event, archival displays, the first performance by the new Owen Sound Poet Laureate and its important Centennial Renewal Project, plus the launch of its new book by Jim Algie — Still Standing: 100 Years at The Roxy Theatre. The featured performers include: Toronto jazz singer John Alcorn, his daughter, chanteuse Coco Love Alcorn; the Look Up Theatre performing a special flapper-inspired youth acrobatic show; the Silent Film Ensemble accompanying an original 20-minute silent film made by students at Macphail Community School in Flesherton; The Georgian Bay Concert Choir; the cast of Les Misérables. The evening will be hosted by Bunni Wonderfrau, the magical alter-ego of comedian and actor Jenny Parsons. Dress your Edwardian best and party like it's 1913!
For those who choose to dress in vintage costumes, rentals are available from Owen Sound Little Theatre's costume department on a first-come, first-served basis on Wednesday, October 9th from 7-9 pm.
Adults and Seniors – $19.13 Students – $13 Unsold tickets PWYC at door. All sales final. Thank You.
iCal Import
+ Google Calendar