« Back to Events
This event has passed.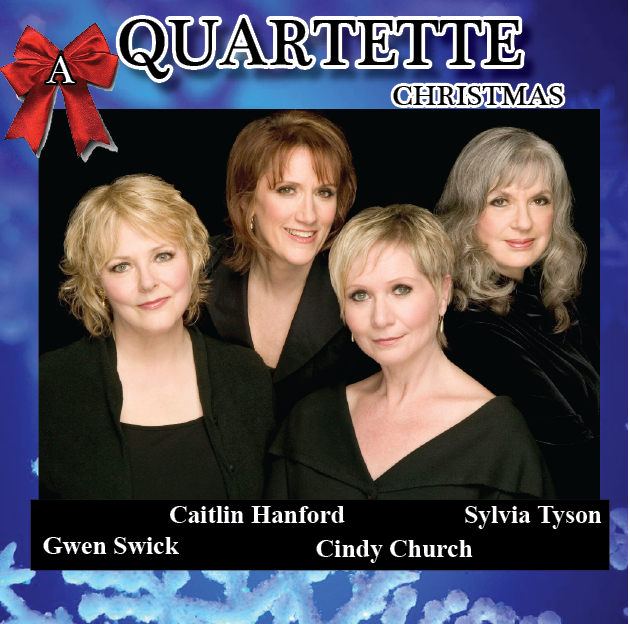 One of the great joys of Christmas is the music … one of the great joys of this Christmas is the opportunity to experience that music through the genius of Quartette! Whether it's traditional favourites like "Silent Night" and "What Child Is This?" or Quartette originals such as "The Perfect Christmas Tree" and "Hope, Peace, Joy and Love", Canadian singer/songwriters Cindy Church, Caitlin Hanford, Gwen Swick and Sylvia Tyson enchant with their singularly lush harmonies, unique arrangements and rich variety of musical influences.
The genesis of Quartette was happenstance … a "songwriter in the round" showcase of Canadian women songwriters hosted by Toronto's Harbourfront Centre in 1993. What began as a concert of musical friends grew into an inspired collaboration, generating public and critical acclaim, and catching the ear of Peter Gzowski, who invited them to perform on his CBC Radio show Morningside. Later Gzowski would say of that performance: "The CBC switchboard lit up like a Christmas tree with people looking for a recording!" Seven months later they released their self-titled album. Since then, Quartette has released five more recordings – two of them Christmas collections, garnered multiple Juno nominations, won the Canadian Country Music Award for best vocal collaboration, performed with major symphonies across Canada, been repeat guests on Garrison Keillor's A Prairie Home Companion, recorded a CMT-TV Christmas special and of course continued to tour the country, either in support of their most recent release or for their ever-popular Christmas performances.
Laughter, refreshing arrangements of old and new, impeccable harmonies, tales of love and inspiration, four lovely ladies celebrating 23 years of musical friendship … "A Quartette Christmas."
iCal Import
+ Google Calendar