« Back to Events
This event has passed.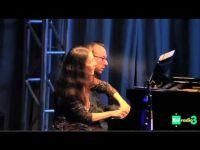 Leith Summer Festival – CONCERT FOUR
Sunday August 10, 2014 – 2:00 p.m.
Afternoon Fantasy
Alessandra Ammara (piano)
Roberto Prosseda (piano)
Alessandra Ammara has drawn the attention of the musical world from a young age, succeeding in major international piano competitions such as the "J. Iturbi" in Valencia, the "Casagrande" in Terni, "G. B. Viotti" in Vercelli, and the "Van Cliburn" in Fort Worth. In 2000 she was awarded "Laureate" by the "Esther Honens" international piano competition in Calgary, Canada.
Ms. Ammara's concert schedule is continuously growing, performing throughout Europe and America. Some notable concert highlights include performances at Musikverein in Wien, Festspielhaus in Salzburg, Grosses Philharmonie in Berlin, Salle Cortot in Paris, Concertgebouw in Amsterdam, Gasteig in Munich, Jack Singer Hall in Calgary, Bass Hall in Fort Worth and Meridian Center in Washington. She has thrilled audiences as soloist with orchestras such as Wiener Symphoniker, Berliner Symphoniker, Orchestra Sinfonica della Rai, Calgary Philharmonic, Cape Town Philharmonic with conductors such as Fabio Luisi, Georg Pehlivanian, Roberto Minczuk, Bernard Labadie.
Alessandra collaborates with many great interpreters, including Alban Gerhardt, Leonard Elschenbroich, Roberto Fabbriciani, Anton Kuerti, the Takacs Quartet and the Sine Nomine Quartet. Since 1999 she has toured in piano duo with Roberto Prosseda.
Roberto Prosseda's recent discovery of Felix Mendelssohn piano works lead to his two Decca releases: "Mendelssohn Discoveries" (2005) and "Mendelssohn Rarities" (2006.)
After winning major prizes in several important piano competitions, including the "U. Micheli" in Milan, the "F. Schubert" in Dortmund, the "A.Casagrande" in Terni and the "W.A.Mozart" in Salzburg, he has performed successfully in more than 40 countries in Europe, Asia, Australia, North and South America.
Tickets $25 / Students $15.  All Sales Final.
iCal Import
+ Google Calendar