« Back to Events
This event has passed.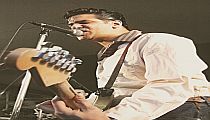 The first show of the Thirsty Thursday Rockabilly Saloon!
Bloodshot Bill started playing in his hometown of Montreal, around 1998, with just a guitar and a stomp board. Since then, he has had over 30 releases throughout Europe, USA and Canada – and still tours all these places frequently. He plays his guitar through his custom made one-of-a-kind Richtone Amp. He won FME's Coup De Coeur prize in 2007. Bill brings his his full band The Handcuffs for an unbelievably high energy night.
Cousin Harley is the rocking hillbilly persona of Paul Pigat, an extraordinary guitarist, vocalist and songwriter. Hailing from Vancouver, BC, Cousin Harley has a hard-earned reputation for delivering everything from hot rod rockabilly to foot stomping vintage country and Western Swing. Pigat's Cousin Harley style is deeply rooted in the playing of Les Paul, Charlie Christian and Link Wray with a modern twist to create a style that is exhilarating in its intensity, yet at the same time fluid and precise. Paul's creative use of tone and dynamics is a hallmark of everything he plays and his sense of rhythm is both sophisticated and dead on.
Pigat's superb talent as a guitarist is matched by his vocal abilities; a warm baritone equally at home singing flat–out rockers and relaxed country swing. Pigat is also known as the Gretsch guitar go-to man in North America – and it simply doesn't get any better than that!
All Tickets $20, October 17, 2013 @ 7:30pm
All Sales Final.
iCal Import
+ Google Calendar