« Back to Events
This event has passed.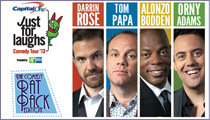 The 2013 Capital One™ Just For Laughs Comedy Tour presented by Holiday Inn Express Hotels
There's no room for rookies in this line-up; our "Comedy Rat Pack" boasts nothing but hot headliners. The stellar line-up for the 13th edition of our Tour includes The Marriage Ref's, Tom Papa; winner of Last Comic Standing, Alonzo Bodden; Jerry Seinfeld's Comedian co-star, Orny Adams; Comedy's The Match Game star, Darrin Rose, as host of the evening; and introducing Ben Seidman, the star of Travel Channel's Magic Outlaws. Get out your suit and tie; from Ocean to Ocean, our Rat Pack is about to pull off the comedic heist of all time.
Thursday, November 7, 2013 at 7 pm at OSCVI. Tickets $41.00. All sales final.
iCal Import
+ Google Calendar