« Back to Events
This event has passed.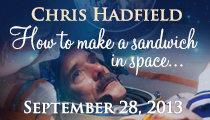 Don't miss this amazing opportunity to hear Colonel Chris Hadfield speak about his recent five month voyage in space. During his research onboard the Soyuz spacecraft, Hadfield managed to stay connected to millions on earth through interviews, Tweets, Skype sessions, photos and even a few guitar performances.
Hadfield's talks are both passionate and illuminating, and he motivates audiences to achieve dreams higher than the clouds.
The Meaford Hospital Foundation is organizing Hadfield's speaking engagement in Owen Sound, and proceeds from this fundraising event will support the six Grey Bruce Health Services hospitals.
Date: September 28, 2013
Time: 7:00 p.m.
Location: OSCVI (Owen Sound Collegiate and Vocational Institute), 1550 – 8th Street East, Owen Sound, Ontario
Price: $100 per ticket, with a $40.00 charitable tax receipt. All sales are final.
Tickets will go on sale to the public July 22.
Tickets can be purchased via:
Phone:             519-371-2833 / 1-888-446-7699
In person:        Roxy Box Office, 251 9th Street East, Owen Sound
Online:            Click here
Should you choose purchase your ticket online, please ensure you fill out all of the applicable contact information so that your eligible tax receipt can be forwarded to you directly.
iCal Import
+ Google Calendar