« Back to Events
This event has passed.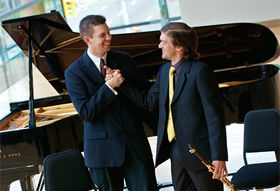 Leith Summer Festival
Concert 3
Chris Donnelly – piano
Kornel Wolak – clarinet
Kornel Wolak and Chris Donnelly – Armed with a clarinet, a piano and their personable stage presence, Kornel Wolak and Chris Donnelly present a remarkable blend of classical and jazz music rarely heard in live performance.
From revered classical pieces such as Mozart's Clarinet Concerto in A Major, to Gershwin's famous Rhapsody in Blue, and Oscar Peterson's classic Hymn to Freedom, Chris and Kornel captivate audiences with virtuosity, familiar melodies and a profound passion for music and performing.
Throughout the program, Chris and Kornel also showcase their talent as solo artists. Kornel's selections include J.S Bach's violin works transcribed for the clarinet. Chris's solo works include classics from The Great American Songbook and the Disney Songbook such as Hoagy Carmichael's Georgia and So This is Love from Disney's Cinderella.
iCal Import
+ Google Calendar