« Back to Events
This event has passed.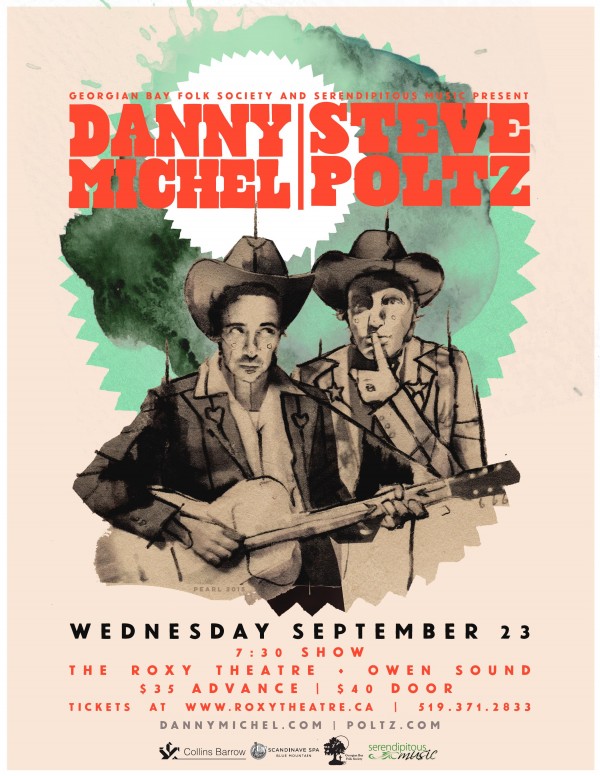 SOLD OUT!
Danny and Steve met at a little Canadian festival a few years ago and became quick pals​. Unshackled and unhinged, totally at home on stage.
​At The Roxy, they'll perform their own solo sets and share some songs together​. Solo. Duo. Performing from the hip. Carefree. Brilliant. Expect the unexpected.
Multiple musical experiences, two musicians, one night. 
​Summerfolk favourite and ​3X Juno nominee Danny Michel is one of Canada's finest songwriters. His thoughtful lyrics & earnest performances have earned him a devoted fan base. A musical chameleon, able to slip into many genres with ease. An adventurous & fearless artist.
This summer he's driving a hand-painted Star Trek Van across Canada, filming a web-cast, playing shows. A musical adventure through time and space. Dan's Space Van.
Steve Poltz, San Diego's Most Influential Artist of the Decade, is a storytelling genius, weaving threads through songs to make ​you laugh and cry. He's hyper, charismatic and joyous. Stories spew out of him on the spot, and his unabashed maniacal antics on stage have earned him a worldwide cult following. A live show legend.
Back in the '90s Steve encouraged a young waitress named Jewel to sing her songs at an open mic. Steve and Jewel went on to write "You Were Meant for Me", a song still in Billboard's Hot 100 Top 10, tied with Adele's "Rolling in the Deep". That guy​.
C'mon out and celebrate the Autumn Equinox – two of this continent's best live performers on one stage!
www.dannymichel.com
www.poltz.com
Tickets $30 Adults, $20 Senior/Student
All Sales Final
iCal Import
+ Google Calendar