« Back to Events
This event has passed.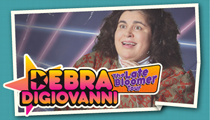 Debra DiGiovanni – The Late Bloomer Tour presented by Just for Laughs. Gemini and Canadian Comedy Award winner Debra DiGiovanni will delight Canadian audiences this winter with her signature style of loveable, confident awkwardness on The Late Bloomer Tour. The Match Game and Debaters regular says, "I'm super duper excited about The Late Bloomer Tour! Just For Laughs has always been so supportive of me and I couldn't be happier to be working with them for my first solo cross-Canada tour. BEST TOUR EVER!!!"
Tickets $41. All sales final. Tickets go on sale Monday, October 21, 2013 at 10 am.
iCal Import
+ Google Calendar