« Back to Events
This event has passed.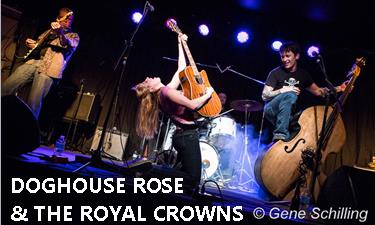 Doghouse Rose & The Royal Crowns
Many miles down the dusty back roads of South Western Ontario, the roots of country music grow wild in the elements of folk, punk and rock n roll. This unique, natural occurrence could only be harnessed through the music of Doghouse Rose. Award winning singer/song-writing team Sarah Beth and Jefferson Sheppard are harnessing up to tour down the endless road of the traveling musician. With the addition of renowned hotshot Carl Welch on drums and backup vocals, the opportunity to make an awesome live show even more unforgettable could not be passed up.
The Royal Crowns, Toronto's favorite roots/rockabilly/party band celebrated their 20th anniversary by reconfiguring as a trio and getting down to work writing 15 new songs for their much anticipated third release, titled simply: VOLUME THREE. Original members guitarist-singer Danny Bartley, (former member of Shotgun Shack and the Razor Backs) and drummer-singer-professional wisecracker Teddy Fury (former member of the seminal rockabilly band the Bopcats) recruited Jason Adams in 2010, fellow pomade aficionado from Buffalo NY on the upright bass, and the rejuvenated swing/surf/rockabilly/country/roots band sprung into their third decade raring to go.
All tickets $20, November 28, 2013 @7:30pm
All sales final.
iCal Import
+ Google Calendar