« Back to Events
This event has passed.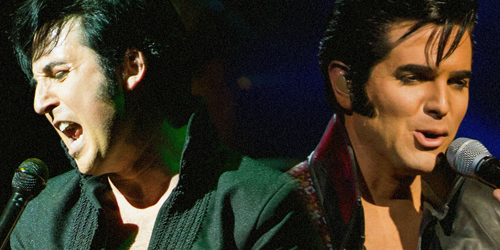 Starring Dean Z and Pete Paquette
Undoubtedly one of the most dynamic shows this year. New for 2017, this show features two of the worlds' most accomplished Elvis Tribute Artists at their very best, Pete Paquette from Canada and Dean Z from the USA, accompanied by our very own Rockin' Royals Showband and the Tonettes. Energized by friendly competitiveness, both Pete and Dean will go head to head as Elvis, taking you back in time to relive the various eras of the King's colourful music career in this fun, authentic and interactive concert.
From Branson, Missouri, Dean Z is our special guest Elvis Tribute Artist. Dean has dedicated his entire life to honouring the legacy of Elvis Presley, the King of Rock n' Roll. In August 2013, he was named the winner of the 2013 Ultimate Elvis Tribute Artist Contest in Memphis, Tennessee. He has toured across the globe and has shown time and again he is one of the best in the business today through his energy, vocals, mannerisms and authenticity.
From Toronto, Ontario, Pete Paquette is a World-class Elvis Tribute Artist, highly regarded as one of the top Elvis performers in the business today. Pete is known for captivating his audiences through his incredible voice, high energy, charisma, and playful spontaneity with his audiences. This multi-award winning performer has also had the opportunities of headlining some of the largest Elvis festivals across North America, including Collingwood Elvis Festival and the 30th Anniversary Show held in Memphis, Tennessee in 2007. Pete is an exciting performer to watch and will undoubtedly leave you wanting more.
Don't miss this one of a kind whirlwind of a show as these two magnificent performers come together to bring you an unparalleled rock'n roll concert experience celebrating the music and legacy of Elvis Presley.
iCal Import
+ Google Calendar