« Back to Events
This event has passed.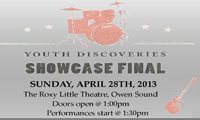 The Georgian Bay Folk Society presents The Discoveries Youth Showcase Finale. From all of the performers featured on stage, five acts will be selected to perform at the Summerfolk Music & Crafts Festival.  They will be featured in the Discoveries Concert at The Festival and participate in workshops throughout the Festival weekend.
An amazing opportunity to be seen and heard by an international audience!
All judges are professionals and can offer networking and other performance opportunities:
 Amy Mangan – Hugh's Room, Toronto
Joel Leblanc – Stewart Park Festival, Perth
Liz Scott – Eaglewood Festival, Pefferlaw
Come out and join us!  Be a part of the DISCOVERY and say you were there!!!
Doors open at 1 pm and the performances start at 1:30 pm.  Admission by donation.
Presented by the Georgian Bay Folk Society.
iCal Import
+ Google Calendar