« Back to Events
This event has passed.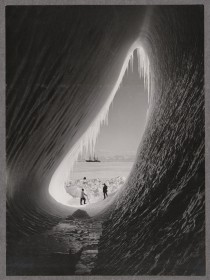 The Great White Silence
Saturday, February 21, 2015
at 8:00 PM
The members of Owen Sound & Grey County's Silent Film Ensemble hereby do cordially invite the public to attend a live performance of their original musical composition to be played simultaneously with a showing of the 1924 documentary motion picture film of the British Antarctic Expedition entitled "The Great White Silence". Formal attired is requested.
The British Antarctic Expedition took place from 1910 to 1913 with its aim to be the first to be the first to reach the South Pole. It's leader, Robert Falcon Scott, invited photographer Herbert Ponting on the expedition with the relatively new invention of the cinematograph with which Ponting captured the earliest footage of Antartic landscape, flora, and fauna, that would become "The Great White Silence."
Pre-Show Tickets: $25 in her Majesty's tender.
Tickets at the Door: $30 in her Majesty's tender.
Doors 7:30 pm Film 8:00 pm
iCal Import
+ Google Calendar