« Back to Events
This event has passed.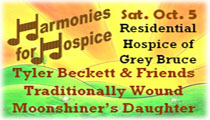 Music lovers take note. Mark your calendars for a special event hosted by the Queen's Bush Bluegrass Club on October 5th at the Roxy Theatre. "Harmonies for Hospice" is a special fundraiser for the Residential Hospice of Grey and Bruce, and will feature three top acts from the Grey and Bruce area: Traditionally Wound, Tyler Beckett & friends plus Moonshiner's Daughter. ALL of the proceeds are dedicated to the Regional Residential Hospice. Help support the local Hospice and enjoy a top-notch evening of bluegrass/oldtime/country music.
The evening begin at 7:30 pm with doors open at 6:30 pm. Tickets are $24.50. All sales are final.
Tickets are available through The Roxy Box office, or by calling at 519-371-2833 or by ordering online via this website.
iCal Import
+ Google Calendar