« Back to Events
This event has passed.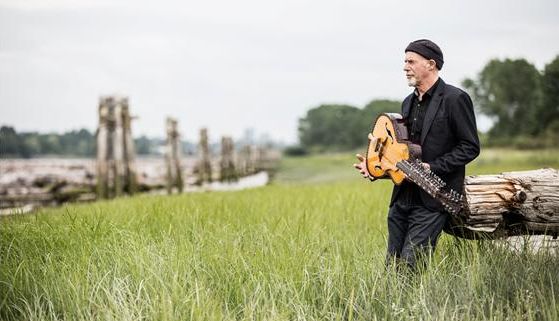 Tickets on sale March 2, 2018 at 10:00am
Harry Manx speaks to the soul with his calm spirituality and distinctive sound.  Dubbed the essential link between the music of East and West, he is a master of the musical short story that seamlessly weds the tradition of the 'earthly' American Blues with the depth of classical 'heavenly' Indian ragas.   A dedicated performer and prolific artist, he has released fourteen CDs, including the recent Faith Lift, garnered a serious stack of awards and toured extensively across Canada, the US, Australia and Europe, playing in soft seat theatres, prestigious festivals and first-rate blues clubs.
Whether playing the Mohan Veena (a 20-string sitar/guitar hybrid), lap steel, harmonica, stomp box, dobro, banjo or cigar-box guitar, Manx draws audiences in to 'the Harry Zone"—a meditative introspective place—and then pulls them back to 'now' when he moves to more Western music His signature "mysticssippi" style … a blend of Indian folk melodies and slide guitar blues, with a sprinkling of gospel, distinctive hypnotic vocals and poetic lyrics … is  a well-tested recipe that goes down easy and leaves listeners hungry for more.
"A modern day troubadour, Manx sings with an intimate, quiet warmth that makes his shows mesmerizing. The subtle interplay between the haunting notes of the sitar and the gentle, rhythmic groove of the blues gives his songs a beautiful sensuality that defies comparison." – Eugene Weekly
"Manx's real skill lays in creating a rare musical place where blues, country, folk and Indian classical music co-exist as some spirit force."  – Downbeat Magazine
"Canada's most versatile and expressive blues player" – Billboard Magazine
For more info visit www.shantero.com or www.harrymanx.com
iCal Import
+ Google Calendar