« Back to Events
This event has passed.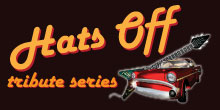 The History of Rock n' Soul – September 12, 2013 @ 7pm
Take the time capsule back to the most memorable music and styles of the 50's, 60's and 70's with this interactive full-band live show with memorable antics and choreography featuring the music of Sha Na Na, The Jersey Boys, The Temptations, more Motown hits plus The Village People, K.C. & The Sunshine Band and more! General Admission $35
Roy Orbison – Shades of Yesterday – September 26, 2013 @ 7pm AND NEW SHOW ADDED September 27, 2013
Bernie Jessome and the Memphis Cats celebrate the life and music of legendary Roy Orbison, featuring all the classic tunes spanning The Big O's entire career, from Sun Records days to 60's chart-toppers and even 80's Travelling Wilburys hits. Miss this one and you will be "Crying" too. General Admission – $30
REPLAY: The Beatles – October 10, 2013 @ 7pm
REPLAY is Canada's most authentic, exciting and compelling Beatles tribute. Other tribute bands wear the suits and play the songs, but none have The Beatles' aura and magnetism like REPLAY. Most people have said they actually felt they were watching The Beatles. REPLAY plays over 30 of your favourite Beatles songs like She Loves You, Help!, Yesterday, Penny Lane, Get Back, Hey Jude and many more! REPLAY it! www.ReplayTheBeatles.com  General Admission $35
All 3 shows in this series can be purchased for $85. Series on sale now! Individual tickets on sale after July 2, 2013.
*Please note that as of September 6th, there are only a handful of seats left for the Sept. 26th Roy Orbison – Shades of Yesterday show so a 2nd show has been added on September 27th. Those seeking to purchase SERIES passes as of September 6th will only be able to purchase packages that include the September 27th Roy Orbison show. Thank you.
Presented by 560 CFOS, Country 93 and The Roxy. Series sponsor Elsie's Diner.
No Refunds. Thank You.
iCal Import
+ Google Calendar