« Back to Events
This event has passed.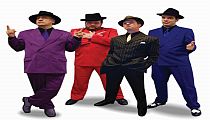 Pauly and the Goodfellas brings you The History of Rock and Soul
Take the time capsule back to the most memorable music and styles of the 50's, 60's and 70's with this interactive full-band live show with memorable antics and choreography featuring the music of Sha Na Na, The Jersey Boys, The Temptations, more Motown hits plus The Village People, K.C. & The Sunshine Band and more!
September 12, 2013 @ 7pm, Tickets $35
All Sales Final.
iCal Import
+ Google Calendar