« Back to Events
This event has passed.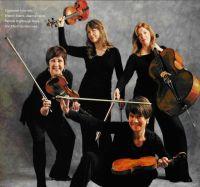 Leith Summer Festival – CONCERT TWO
Saturday July 26, 2014 – 7:30 p.m.
The Lafayette String Quartet
Ann Elliott-Goldschmid – violin
Joanna Hood – viola
Pamela Highbaugh Aloni – cello
Sharon Stanis – violin
The Lafayette is the only all-female ensemble in the world to comprise the four original members – a distinct rarity, regardless of gender and regardless of profession.
"Splendid… powerful and riveting in every way." (New York Times)
"In their convincing interpretation, Beethoven's mighty monster (Op. 131) sang as sweetly as it thundered…" (Los Angeles Times)
"… The LSQ displayed wonderful precision and an instinctive responsiveness to one another's playing that can only come from years of making music as a team." (Winnipeg Free Press)
Tickets $25 / Students $15. All Sales Final.
iCal Import
+ Google Calendar