« Back to Events
This event has passed.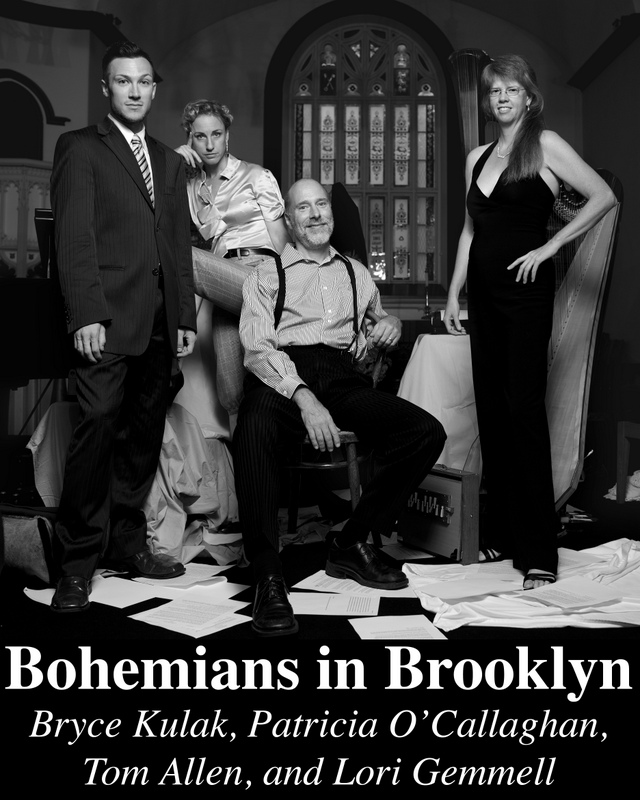 Bohemians in Brooklyn is an original cabaret by CBC radio host and musician Tom Allen, based around the zany activities of a group of artists (including W.H Auden, Benjamin Britten and Gypsy Rose Lee) who lived in February House in Brooklyn, N.Y. in the early 1940's.
What happens when a poet, an author, a composer, his lover and a book-loving stripper all move into the same house in quiet, wartime Brooklyn? Arguments, indulgence, infestation, questionable relationships of every description, a murder mystery; plenty of reasons for the neighbours to bang on the walls, and, just possibly, some truly wonderful art. Join singers Patricia O'Callaghan and Bryce Kulak, harpist Lori Gemmell and storyteller Tom Allen for an evening that is equal parts cabaret, social history, juicy gossip, glorious music and all parts fun.
Bohemians in Brooklyn features music by composers contemporary to the era: Benjamin Britten, Leonard Bernstein, Kurt Weill, Paul Bowles and Colin McPhee. The production also includes original songs by Bryce Kulak and Tom Allen. The voice of Tom Allen will be familiar to CBC Radio 2 listeners as host of the early afternoon program SHIFT. His program is filled with interesting facts and trivia about the music presented so when Allen learned about the extraordinary characters of 'February House' in Brooklyn, he decided to turn the story into a play/cabaret performance. The result is a fascinating evening of song and spoken word presented by this country's finest musical artists. A brilliant start to the 2013 Leith Summer Festival season.
5 pack – $22.00 per concert until May 31
After May 31 – 5 pack $24.00 per concert
iCal Import
+ Google Calendar