« Back to Events
This event has passed.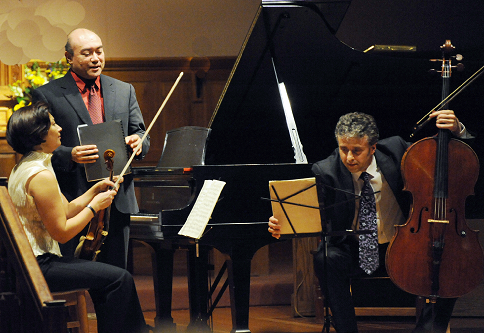 This is a piano trio that plays with strength and unanimity 'big, bold, almost orchestral performances. The Gryphon brings bravura spirit to the piano trio.' – Los Angeles TIMES
'Theirs is most extraordinary music you will ever see!' – Royal Opera House MAGAZINE
Having impressed international audiences and the media with their highly refined, dynamic performances, the GRYPHON TRIO has firmly established itself as one of the world's preeminent piano trios. With a repertoire that ranges from traditional to the contemporary and from European classicism to modern-day multimedia, the Gryphons are committed to redefining chamber music for the 21st century.
Pushing the boundaries of chamber music, the Trio has commissioned and premiered over seventy-five new works from established and emerging composers around the world, and has collaborated on special projects with clarinetist James Campbell, actor Colin Fox, choreographer David Earle, and a host of jazz luminaries at Lula Lounge, Toronto's leading venue for jazz and world music. Their most ambitious undertaking to date is a groundbreaking multimedia production of Canadian composer Christos Hatzis's epic work CONSTANTINOPLE, scored for mezzo-soprano, Middle Eastern singer, violin, cello, piano, and electronic audiovisual media, which they HAVE brought to audiences across North America and the Royal Opera House in London. Gryphon cellist Roman Borys is in his fifth season as Artistic Director of the Ottawa's Chamberfest, the largest festival of chamber music in North America, where the Trio has been a mainstay since the festival's inception in 1994. Annalee Patipatanakoon and Jamie Parker serve as the OCMS's Artistic Advisors
5 pack – $22.00 per concert until May 31
After May 31 – 5 pack $24.00 per concert
iCal Import
+ Google Calendar