« Back to Events
This event has passed.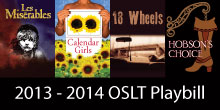 Les Misérables  – – Calendar Girls  – – Hobson's Choice  – – 18 Wheels.
We at Owen Sound Little Theatre welcome you to our 53rd Annual Playbill!

Owen Sound Little Theatre presents Les Misérables, the story of Jean Valjean, who breaks parole after serving 19 years for stealing a loaf of bread. His story and that of the vengeful policeman who pursues him, is interwoven with Valjean's adoption of an orphaned child. Against the backdrop of the people's revolution, it is a tale of the soul's capacity to transcend unimaginable human suffering. Production runs November 6-9, 13-16, 20-23, 2013 at 7:30 pm. Les Misérables is based on the book by Victor Hugo, with music by Claude-Michel Schonberg, lyrics by Alain Boubil and English libretto by Herbert Kretzmer. Directed by Pat O'Connor. Musical Director Don Buchanan. Early sellouts are expected for this exciting production. Season's passes on sale May 1, 2013. Individual seats on sale after July 2, 2013 only.
OSLT presents Calendar Girls. An inspiring true story. Extraordinary women from an ordinary Women's Institute spark a global phenomenon by posing for a charity calendar, revealing more than they'd ever intended.
"It's the whole showing your breasts issues that concerns me."
"The point is that we won't really be showing anything."       "Yes, that what concerns me."
"Yours are good are they?"         "They're tremendous!"
Put Calendar Girls on your special  2014 calendar! Watch for it and familiar faces this fall. Production runs Jan. 30-31, Feb. 1 and Feb. 5-8, 2014. Based on the Miramax motion picture by Juliette Towhidi and Tim Firth. Directed by Corry Lapointe.
OSLT presents Hobson's Choice. Mr. Hobson, a widower, is faced with the difficult problem of marrying off two of his three daughters while wanting to retain their services as cook, housekeeper and free sales ladies in his shoe shop. His eldest daughter takes matters into her own hands leading to a surprising outcome… Set in Britain in 1880, Hobson's Choice is a cheeky, period comedy by Harold Brighouse you won't soon forget. Production runs April 3-5, 9-12, 2014. Directed by Val Underwood.
OSLT presents 18 Wheels. Climb aboard a big rig, buckle up and hold on to your cowboy hats and ball caps as you revisit the landscape along the Trans-Canada Highway. Experience ordinary work-a-day Canadian life through these extraordinary stories in this country-themed mini-musical by John Gray. Over and out! 10-4! Production runs May 28-31, June 4-7, 2014. Directed by Goldie Walma.
The Roxy acknowledges the generous support of the Canada Arts Presentation Fund for this series.
iCal Import
+ Google Calendar