« Back to Events
This event has passed.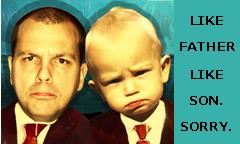 June 15, 2014 (Father's Day) at 7:30 pm
Chris Gibbs has been unqualified for many jobs… he was an overweight acrobat, a private school English teacher whose only qualification was a British accent, and a Titanic Museum interpreter for one day when fired for 'adding a few things'. Then he found himself in the most difficult, important job of of all… Enjoy a hilarious comedy about the foibles of becoming a good father. Visit www.chrisgibbs.ca
Adult and senior $25 Student $15
This show is eligible for a $2 discount by booking this show and at least one other in The Roxy Series (Marc Jordan & Jane Siberry, The Frantics or Brass Transit) or Joe Sealy & Alana Bridgewater or RARE(May 16 evening performance only). Please book multiple tickets with the box office at 519.371.2833.

No Refunds. Thank You.
The Roxy acknowledges the generosity of the Canada Arts Presentation Fund for this performance.
iCal Import
+ Google Calendar