« Back to Events
This event has passed.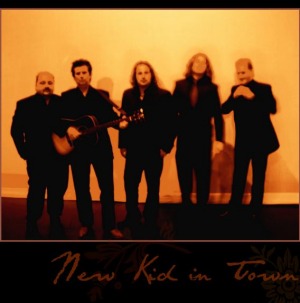 On Saturday, October 4 at 8pm, the songs and sound of legendary 1970's Country-Rock group The Eagles will be re-created at the Roxy Theatre in Owen Sound with a new Canadian touring show called "New Kid In Town: The Ultimate Eagles Tribute." Comprised of some of Canada's leading session musicians, New Kid in Town will perform all of the legendary hits from the Eagles extensive career with amazing "note for note" accuracy.
The evening will be comprised of two sets, with the first half featuring all the songs from the multi-million selling album "Eagles Greatest Hits 1971-1975" including Take It Easy, One of These Nights, Tequila Sunrise, Peaceful Easy Feeling, Take It To The Limit and of course, Desperado amongst the audience favourites. After an intermission, the band will return with more classic hits from the latter portion of The Eagles career including Life in the Fast Lane, The Long Run, Heartache Tonight and their signature song Hotel California.
As a bonus, the multi-talented "New Kid In Town" cast will also perform solo hits made famous by Eagles band members Don Henley, Glenn Frey and Joe Wals.
Tickets $30
iCal Import
+ Google Calendar