« Back to Events
This event has passed.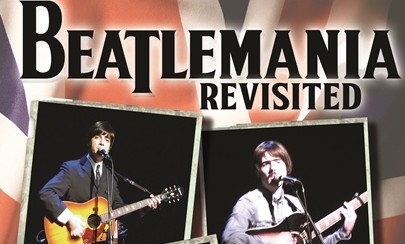 A Night with Beatlemania Revisited is a unique Canadian-based musical and theatrical international touring concert featuring talented European and North American members recreating the look, sound and excitement of the Fab Four's live performances. Beginning with the Ed Sullivan TV show and continuing with many costume changes including Sgt. Pepper and Abbey Road eras. Period guitars, replicas of those played by John, Paul and George, add to the authenticity of this finely tuned show for the young at heart!
Tickets $39 each, or $35 each for groups of eight or more.
BEATLEMANIA REVISITED is an audience interactive production that will have everyone singing, dancing and clapping along throughout this 'FAB'ulous concert.
STARRING IAN GARCIA AS SIR PAUL, COLUM HENRY AS JOHN, JEREMY WRIGHT AS GEORGE, MARK MATTHEWS AS RINGO AND JOHN BROCKSOM AS BILLY PRESTON.
iCal Import
+ Google Calendar