« Back to Events
This event has passed.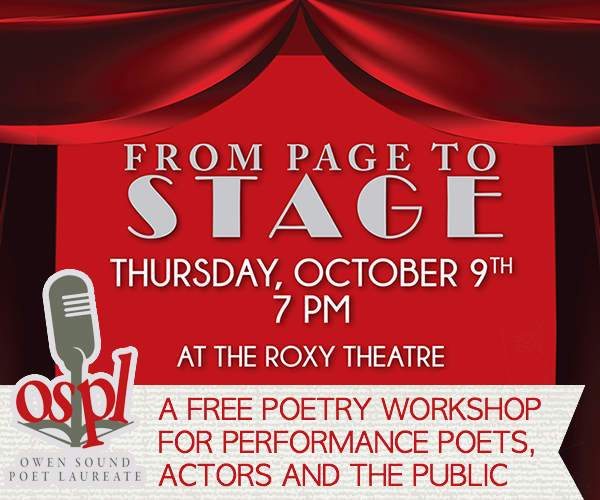 From Page to Stage: Poetry and Performance at the Roxy  
 Join Owen Sound Poet Laureate Terry Burns on Thursday, October 9 at The Roxy Theatre when she hosts the From Page to Stage, the second in a series of free poetry salons open to the public.
From Page to Stage marries poetry and theatre in a performance workshop that will take place on the stage at The Roxy. Open to poets, actors and the public, participants will have a chance to read selections from their work and then receive feedback from a panel of experienced poets and Owen Sound Little Theatre members.
"Theatre is how I came to poetry in the first place," she said. "It's very much a theatrical endeavour for me." Burns is entering her second year as the city's Poet Laureate and has a background in theatre.
Poets are asked to bring a small selection of poems they have written, while actors may bring one or two prepared monologues. Each participant will perform on the stage before a panel that will be made up of OSLT directors Corry Lapointe and Tom Albrecht, as well as Liz Zetlin, Owen Sound's inaugural poet laureate. The panelists will offer feedback on delivery, diction, pace, volume and dynamics.
"Interested poets and actors shouldn't be intimidated," said Burns. The atmosphere will be casual and the feedback supportive. Burns wants to provide a safe environment for nervous presenters who may not have had a lot of experience.
She's also expecting some cross pollination. "My hope is that poets and actors will get a better sense of each other's work," she said.
From Page to Stagewill take place in The Roxy Theatre on Thursday, October 9 at 7 pm. Admission is free, but donations are welcome. There will be a cash bar.
The Owen Sound Poet Laureate 2013-2015 is a program of the Owen Sound Little Theatre generously supported by Frank Dabbs, the author from Annan, with additional sponsorship by David Madill, CFP of BMO Nesbitt Burns.
For more information about From Page to Stage, please contact Maria Canton, Theatre Manager at 519-371-3425 or by email at admin@roxytheatre.ca
iCal Import
+ Google Calendar