« Back to Events
This event has passed.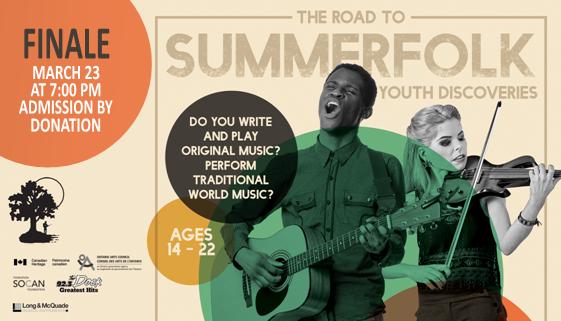 The Youth Discoveries Program was created to give musicians between the ages of 14- 22 the experience of playing a major folk festival. It also helps to foster a sense of community amongst the up and coming!
Winners from preliminary rounds advance to the Discoveries finale showcase in Owen Sound. Judges' feedback regarding your performance for all participants will be available should they be interested. Finale Showcase will be streamed online live by OrchardTV! (Accessible opportunities for fans/friends and family to see your finale performance just got bigger friends!). Five acts are selected from the Finale Showcase to perform at the Summerfolk Music & Crafts Festival.
The finale will be on Friday March 23, 2018 at the Roxy Theatre in Owen Sound. Doors 6:30pm, showcase begins at 7:00pm.
iCal Import
+ Google Calendar