« Back to Events
This event has passed.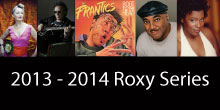 Marc Jordan & Jane Siberry, The Frantics and Brass Transit in this special three-show Roxy Professional Presenting Series!
Marc Jordan & Jane Siberry – October 18, 2013 @ 8pm
Juno award-winning singer/songwriter Marc Jordan (Rhythm of My Heart) celebrates his 13th album with songstress Jane Siberry (Mimi on the Beach, One More Colour, Calling all Angels). This memorable evening features these internationally acclaimed artists sharing the stage with their band, their songs and their stories. Performing new material and favourites, this unique, collaborative performance is not to be missed! Visit www.marcjordan.com or www.janesiberry.com
Adult $ 32 Student $16 Senior $30
The Frantics – December 6, 2013 @ 8pm
Famous for their CBC radio show Frantic Times and their 4 on the Floor TV series, The Frantics are also happily responsible for the creation of Mr. Canoe-head — Canada's aluminum-headed crime fighter, Bill from Bala and Marvin the Mole, as well as their classic Her First Period and Boot to the Head skits. Their particular brand of insanity is best served live! Visit www.thefrantics.com
Adult $30 Student – $15 Senior – $28
Brass Transit – March 21, 2014  8pm
Eight of Canada's most in-demand musicians have gathered out of a common love for the greatest jazz rock group of all time: Chicago. Relive the freewheeling 70's with a studio tight, crowd-pleasing golden age Chicago experience note for note with world-class horns, a rocking rhythm section and sky-high vocals. Visit www.brasstransit.com
Adult $35 Student $ 17.50 Senior $33  Roxy Series tickets on sale now. Individual tickets for sale after July 2, 2013.
Tickets can be purchased by phoning the box office at 519-371-2833, visiting our box office at 251 9th street east, or online at tickets.roxytheatre.ca
Group bookings of 10 or more save $2.00 per ticket as available for OSLT/Roxy Series Shows
Book 2 or more shows and save $2 per show – Show that are available for this discount include those above as well as Joe Sealy & Alana Bridgewater, RARE (May 16 evening performance only) Like Father, Like Son? Sorry! No Refunds. Thank You.
The Roxy acknowledges the generous support of the Canada Arts Presentation Fund for this series.
iCal Import
+ Google Calendar