« Back to Events
This event has passed.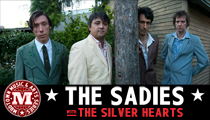 Mudtown Records and The Roxy Theatre present The Sadies with The Silver Hearts. The Sadies have a reputation as one of Canada's finest live acts, with an output of recordings that spans 16 albums since their inception in 1994.  They have toured with the likes of Neil Young, recorded and played with legends like Garth Hudson (The Band) and Gord Downie (The Tragically Hip), all while being lauded by critics and concert goers alike. Their latest album "Internal Sounds" garnered 3.5 out of 5 stars in Rolling Stone, prompting the revered music mag to ask rhetorically: "What can't this band do?"  We're very privileged to be presenting them for the first time on the Roxy Theatre stage for the new Mudtown Music & Arts Series.
Legendary Peterborough band the Silver Hearts made an art of convening large numbers onstage to form a beautiful musical imbroglio, long before Broken Social Scene and their ilk. "Every Wednesday" was the chant as the Hearts filled the Montreal House with their regular Wednesday night gig, routinely finishing atop tables, crowds joined in song, the line between band and audience blurred by heady revelry. We're especially excited for their return after having brought the house down at the same theatre for Lupercalia 2012.
Advance tickets $30. At door $35 (Tax Included). All sales final.
iCal Import
+ Google Calendar