« Back to Events
This event has passed.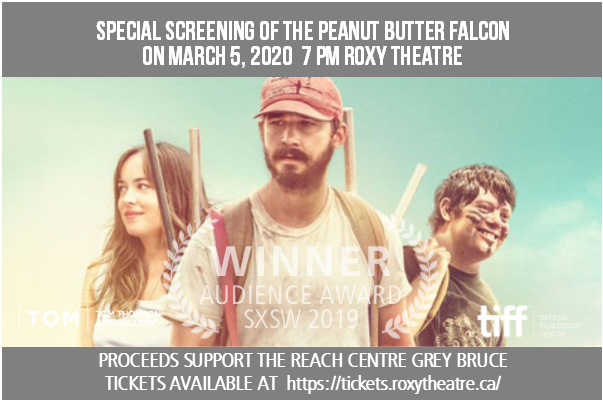 The REACH Centre provides full days programming for youth and young adults with intellectual or developmental disabilities.  Our focus is on skill acquisition for independence in a safe inclusive environment.  We celebrate abilities, encourage friendships and meaningful contribution to society.  As a local charity that receives no government funding, we rely on the support of our community to provide the exceptional individuals with celebrate the gifts they have to share.  Proceeds from this event will support our program delivery.
In The Peanut Butter Falcon, Zak (Zack Gottsagen) is a young man with Down syndrome. Because he has no family, he's forced to live in a retirement home, under the care of Eleanor (Dakota Johnson). One night, Zak escapes with the help of his roommate, Carl (Bruce Dern). Meanwhile, Tyler (Shia LaBeouf) is an outlaw North Carolina fisherman who's alone after his brother's death and so broke that he resorts to stealing crabs from others' traps. When Tyler angers two local crabbers (John Hawkes and Yelawolf), he goes on the run, with Zak quietly hidden in the bottom of his boat. As the pair make their way from North Carolina to Florida — to the wrestling school Zak dreams of attending — they slowly become friends. When a frantic Eleanor catches up to them, she has a tough choice to make: take Zak back, or let him keep pursuing his dream.
iCal Import
+ Google Calendar