« Back to Events
This event has passed.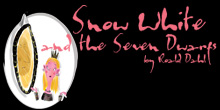 Based on Roald Dahl's Revolting Rhyme, this 40-50 minute youth production is a truly twisted take on a classic fairy tale, featuring an inspired original score and "seven funny little men, each not more than four-foot-ten."
These productions are crafted throughout two, 10-day intensive musical theatre camps for youth ages 8-18 that are led by Christy Taylor at the Roxy during July. Come join us for this wonderful, child-centred musical theatre production featuring our talented, local community youth!
July 12, 1 pm and 7 pm
July 26, 1 pm and 7 pm
Tickets: $8 Youth
$12 adults
All sales are final.
iCal Import
+ Google Calendar