« Back to Events
This event has passed.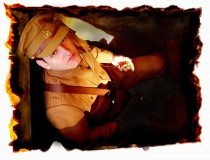 The Soldiers of Song – A Tribute to the Dumbells
By Jason Wilson
Presented by The Roxy Theatre and Billy Bishop Home & Museum

Friday, September 5, 2014
A theatre production honouring the Dumbells, Canada's original sketch comedy group, and the centenary of WWI. Juno-nominated musician Jason Wilson wrote The Soldiers of Song as a tribute to the wild and wacky wartime comedy troupe that was the forerunner of modern satire and the first Canadian group to produce a Broadway hit. The original Dumbells performed at the Savoy Theatre in Owen Sound.
Special rates for Veterans and Service Members.
Tickets $15-$20
iCal Import
+ Google Calendar