« Back to Events
This event has passed.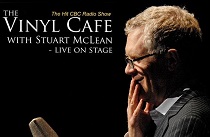 SOLD OUT!
The Vinyl Cafe 2014 Winter Tour comes to March 28, 2014 at OSCVI. The tour celebrates the 20th season of Stuart McLean's popular radio show, now heard by 1.5 million people each week. The Vinyl Cafe is broadcast on CBC Radio in Canada, on close to 100 public radio stations in the USA and on around the world on Sirius Satellite Radio 169 and podcasts.
In addition to the popular Dave & Morley stories, the show also features live and recorded music by both up-and-coming and established Canadian musicians. Increasingly, it is becoming a place where Canadians go to find new, undiscovered talent.
The Vinyl Cafe Winter Tour 2014 will feature two brand new Dave & Morley stories and live music.
Tickets on sale December 2, 2013.
Adults $56
Students (id required) $36
All sales final.
iCal Import
+ Google Calendar