« Back to Events
This event has passed.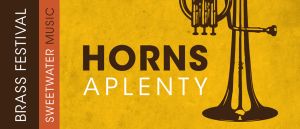 The Sweetwater Music Festival presents:
SWEETWATER MUSIC BRASS FESTIVAL
JUNE 27-29, 2014 
at THE HARMONY CENTRE, OWEN SOUND
       

7:30 PM

 FRIDAY JUNE 27 
  TRUE NORTH BRASS
True North Brass Performance
with Student Ensembles 
Tickets: $15 Adults, $5 Students
;
      

11 AM to 1 PM

 SATURDAY JUNE 28

 

MASTERCLASS
  With French hornist Joan Watson  Free
;
2:30 PM
SATURDAY JUNE 28
REVERB BRASS
Reverb Brass and Community Brass Quintets 
Pay-what-you-can
;
      

7:30 PM

 SATURDAY JUNE 28

 

THE MUSIC OF GABRIELLI
  Reverb Brass and True North Brass  Tickets: $25 Adults, $5 Students;
2:00 PM SUNDAY JUNE 29
  DIXIE JAZZ VESPERS
  An impromptu jazz interlude with the True North Brass and others  Pay-what-you-can.
BRASS EXTRAVAGANZA
Friday, June 27, 7:30 pm
Internationally known quintet True North Brass headlines this exciting evening of music devoted to the brass family of instruments. In addition to TNB's own energetic and skilful performance, student brass ensembles will have the opportunity to perform on their own as well as with TNB, who will also provide some inspiring tips for these young talented players.
HORNS APLENTY
Saturday, June 28, 7:30 pm
True North Brass returns with the up-and-coming quintet Reverb Brass to present an evening of captivating musical selections from contemporary composers Jan Bach, Andrew Rindfleisch, James Hesford, Scott Irvine, and Jim McGrath; classical and jazz composers Giovanni Gabrielli and Duke Ellington; 20th century Canadian Morley Calvert and 19th century Canadian Calixa Lavallée.
PURCHASE AN ADULT FESTIVAL PASS FOR ONLY $35 AT SWEETWATERMUSIC.CA OR AT THE ROXY BOX OFFICE: 251 9TH STREET EAST, OWEN SOUND.
iCal Import
+ Google Calendar