« Back to Events
This event has passed.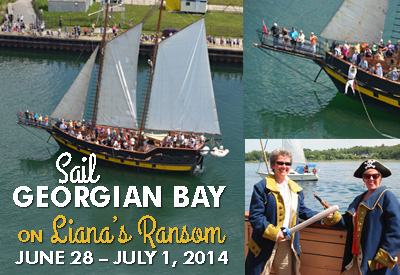 Re-live history with a trip on 85′ topsail schooner Liana's Ransom. Crew members dressed as pirates share thrilling tales of the sea from long ago. These 90-minute excursions run five times daily over Canada Day weekend, with a special Fireworks Cruise on July 1st. Expected to sell out – advance purchase strongly recommended.
Please note: passengers must be able to board the vessel on foot via a gangway ramp. The ramp and vessel are not designed to accommodate wheelchairs or motorized scooters.
Cancellation policy: all sales are final. Depending on availability, tickets may be exchanged for an excursion at a different time up until 48 hours before the scheduled departure of the originally purchased excursion.
Weather: in the event of a cancellation at the call of the ship's captain due to weather or other reasons, your ticket(s) will be refunded, or depending on availability, may be exchanged for an excursion at a different time. It is expected that the ship will sail in all weather except severe storms, so please dress accordingly. Non-slip footwear with flat heels is recommended.
Location: 1155 1st Ave. West is the old CN train station, currently the home of Owen Sound Tourism and the Marine and Rail Museum. The excursions depart from the nearby West Harbour wall. There is free parking available on site. Additional parking available on weekends, holidays, and evenings at the Owen Sound Medical Building at the corner of 1st Avenue West and 14th Street West.
Tickets:
Children: for safety reasons, children under the age of 6 are not permitted on the excursions.
Cruises, June 28th, 29th and July 1st
10:00 am / 12:00 pm / 2:00 pm / 4:00 pm / 7:00 pm
$44 General (Age 13-59)
$34 Children (Age 6-12)
$34 Senior (Age 60+)
Canada Day Fireworks Cruise, July 1st at 9:00 pm
$55 General (Age 13-59)
$44 Children (Age 6-12)
$44 Senior (Age 60+)
iCal Import
+ Google Calendar