« Back to Events
This event has passed.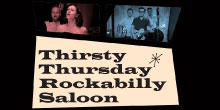 Salute your inner hillbilly with our newest series, featuring hours of amped-up high octane roots music guaranteed to gratify carefree cowpokes, roots rockers and hipsters alike! This series showcases the best rockabilly acts from Hogtown and beyond with boundary-breaking musical mayhem!
Bloodshot Bill + The Handcuffs & Cousin Harley – October 17, 2013 @ 7:30pm
Bloodshot Bill started playing in his hometown of Montreal, around 1998, with just a guitar and a stomp board. Since then, he has had over 30 releases throughout Europe, USA and Canada – and still tours all these places frequently. He plays his guitar through his custom made one-of-a-kind Richtone Amp. He won FME's Coup De Coeur prize in 2007.
Cousin Harley is the rocking hillbilly persona of Paul Pigat, an extraordinary guitarist, vocalist and songwriter. Hailing from Vancouver, BC, Cousin Harley has a hard-earned reputation for delivering everything from hot rod rockabilly to foot stomping vintage country and Western Swing. Pigat's Cousin Harley style is deeply rooted in the playing of Les Paul, Charlie Christian and Link Wray with a modern twist to create a style that is exhilarating in its intensity, yet at the same time fluid and precise. Paul's creative use of tone and dynamics is a hallmark of everything he plays and his sense of rhythm is both sophisticated and dead on.
Pigat's superb talent as a guitarist is matched by his vocal abilities; a warm baritone equally at home singing flat–out rockers and relaxed country swing. Pigat is also known as the Gretsch guitar go-to man in North America – and it simply doesn't get any better than that! General Admission $20.
Doghouse Rose & The Royal Crowns – November 28, 2013 @7:30pm
Many miles down the dusty back roads of South Western Ontario, the roots of country music grow wild in the elements of folk, punk and rock n roll. This unique, natural occurrence could only be harnessed through the music of Doghouse Rose. Award winning singer/song-writing team Sarah Beth and Jefferson Sheppard are harnessing up to tour down the endless road of the traveling musician. With the addition of renowned hotshot Carl Welch on drums and backup vocals, the opportunity to make an awesome live show even more unforgettable could not be passed up.
The Royal Crowns, Toronto's favorite roots/rockabilly/party band celebrated their 20th anniversary by reconfiguring as a trio and getting down to work writing 15 new songs for their much anticipated third release, titled simply: VOLUME THREE. Original members guitarist-singer Danny Bartley, (former member of Shotgun Shack and the Razor Backs) and drummer-singer-professional wisecracker Teddy Fury (former member of the seminal rockabilly band the Bopcats) recruited Jason Adams in 2010, fellow pomade aficionado from Buffalo NY on the upright bass, and the rejuvenated swing/surf/rockabilly/country/roots band sprung into their third decade raring to go. General Admission $20.
Tennessee Voodoo Coupe & The Millwinders – January 16, 2014 @ 7:30pm
Up out of the back streets of Toronto's Retro Rebel Underground comes Tennessee Voodoo Coupe, purveyors of "100 proof reckless hillbilly jive." With legendary "Swing Punk" pioneer Big Rude Jake on vocals and acoustic guitar, and Steve Good on the doghouse bass, their lineup is rounded-out with Stevie "Six String" Abrams on the twangy Gretsch guitar, and dashing Don Decouchay on a minimal stand-up drum kit. With this classic rockabilly arrangement, TVC tackles a broad mix of music, leaning heavily on early rockabilly, country, and some '40s jump blues, along with plenty of originals and a few unexpected surprises.
The four members of Toronto's Millwinders are no strangers to the Rockabilly scene. Together just over 3 years, this quartet has been making a name for themselves quickly, entertaining crowds with their traditional rockabilly, and R&B infused sound. With all four members handling vocal duties, the strength of "The Millwinders" truly is in the sum of its parts. General Admission $20.
Buy the whole series for only $50!
Series on sale now. Individual tickets on sale after July 2, 2013.
No Refunds. Thank You.
The Roxy acknowledges the generosity of the Canada Arts Presentation Fund for this series.
iCal Import
+ Google Calendar