« Back to Events
This event has passed.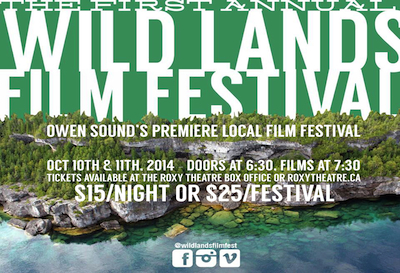 In cooperation with the Historic Roxy Theatre and the Kilannan Brewing Co., the Wild Lands Film Collective is proud to present Owen Sounds' premiere local film festival. The event will showcase ten to twelve short films directed and produced by regional area filmmakers, tackling diverse topics and multiple genres, ranging from documentaries and animation, to narrative film.
The festival has arranged to premiere "Expedition to the End of the World" on October 10th, a documentary by Danish filmmaker Daniel Dencik that explores a "grand, adventurous journey to the last uncharted areas of the globe." Local short films will follow on the evening of October 11th. Judging will be conducted by a series of People's Choice awards, the Best Picture award, and a Runner-Up award.
Geoff Pevere, noted Canadian arts and media critic will be hosting the festival on both nights.
Tickets $15/night, or $25 for the festival.
iCal Import
+ Google Calendar