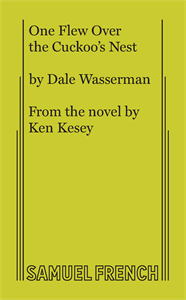 This stage adaptation of Ken Kesey's celebrated novel explores the brutality of life in a mental institution with humor, candor, and unforgettable characters.

After being convicted of a petty crime, a charming, rebellious rogue named McMurphy contrives to serve his short sentence in an airy mental institution rather than in a prison. This, he soon learns, was a mistake. He immediately clashes with the authoritarian head nurse, a fierce martinet named Nurse Ratched. Despite Ratched's strict reign, McMurphy quickly takes over the yard, leading others out of introversion, staging a revolt so that they can see the World Series on television, and arranging a rollicking midnight party with liquor and women. But McMurphy's brash insubordination has its consequences.

Click HERE to download Audition Form (copies will also be available at auditions)

Directed by: Corry Lapointe
On stage at The Roxy November 2023!
Audition Dates:
June 25, 1-4pm
June 26, 6:30-9:30pm
June 27, 6:30-9:30pm

Auditions Location: Knights of Columbus (address can be found HERE)
If you would like to book an audition time or have any questions please contact director Corry Lapointe at corrylapointe@gmail.com
Walk ins welcome!
Roles:
Males – 1 lead, 6 supporting, 4 secondary supporting
Females – 1 lead, 3 supporting

Those who are interested are encouraged to check out the internet, film and script to identify which roles they are interested in. Everyone is welcome to audition for any role and/or multiple roles.