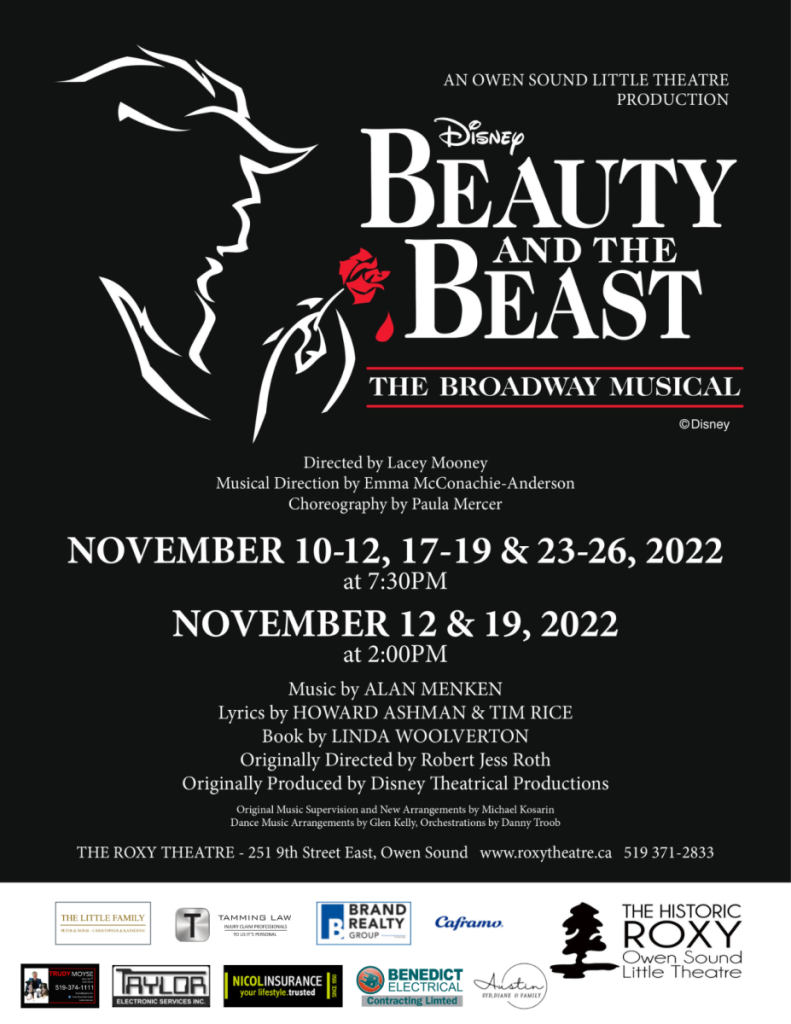 Step into the enchanted world of Disney's Beauty and the Beast, including all of the wonderful songs written by Alan Menken and the late Howard Ashman, along with new songs by Mr. Menken and Tim Rice. This classic tells the story of Belle, a young woman yearning for adventure, and the Beast, a young prince who remains trapped under the spell of an enchantress. If the Beast can learn to love and be loved in return, the curse will be broken, but time is running out. Will he and Belle find a connection? Or will he and his household be doomed for all eternity.

Directed by Lacey Mooney
Musical Direction by Emma McConachie-Anderson
Choreography by Paula Mercer
Music by Alan Menken
Lyrics by Howard Ashman and Tim Rice
Book by Linda Woolverton
Dates: November 10-12, 17-19 and 23-26, 2022.
Please note, for the comfort of our patrons, Friday November 25 is a masked patron performance.
CAST
Tessa Snider – Belle
Cameron Donsberger – Beast
James Moyse – Gaston
Ridgley Dier – Lefou
Ben Davidson – Lumiere
Jamie Smith – Cogsworth
Julie Craven – Mrs. Potts
Nyomi Venema – Chip
Grace McRae – Babette
Sharon Nolson – Wardrobe
Peter Leonard – Maurice
Bill Oliver – Monsieur Darque
Andie Cook – Silly Girl
Tiffany McMillin – Silly Girl
Jenna Wescott – Silly Girl
Jannet Chitalo-Taylor – Enchantress, Ensemble
Jackelyn Crawford – Candlemaker, Ensemble
Melissa Crawford – Sausage Curl Lady, Ensemble
Marcia Cunningham – Flower Seller, Ensemble
Jordan Foulds – Shepherd, Ensemble
James Giberson – Baker, Ensemble
Milea Heihn – Townsperson, Ensemble
Ellie Lehman – Milkmaid, Ensemble
Colleen Martin – Marie, Ensemble
Andie McGuire – Hat seller, Ensemble
Georgia Rutter – Laundry Lady, Ensemble
Tim Salmon – Tavern Master, Ensemble
Mike Tettenborn – Bookseller, Ensemble
CREW
Director – Lacey Mooney
Musical Director – Emma McConachie-Anderson
Choreographer – Paula Mercer
Producer – Fiona McConachie-Anderson
Stage Manager/Assistant Stage Manager – Sandy Lemaitre
Stage Manager/Assistant Stage Manager – Fiona Smith
Assistant Stage Managers – Michael Johnston, Stephanie Bumstead (Runner)
Wardrobe Team – Cathie Tilley (Lead), Martha Tettenborn, Val Underwood, Anne Thompson
Set Design – Paul Nicholson
Props Team – Katherine Ruck (Lead), Alison Moran
Technical Props/Special Effects Team – Mike Tettenborn, Martin Cooper
Scenic Painters – Terry Burns (Lead), Valerie Prettie, Joanne Dowdall, Karen Giberson
Lighting Design – Kathleen Cassidy
Hair Team – Kasey Williams (Lead), Katt Dickerson, Carrie Keeling
Make-up Team – Wendy Smart (Lead), Susan Archibald, Michelle Merizzi, Susan Snell
Technical Director – Gary Byers
Photography – John Prettie, John White
Thank you to our Production Sponsors!