Subscribe to our Educational & Youth Performances Newsletter.
---

MARCH 3, 2020 at 1:00PM (FRENCH)
MARCH 4, 2020 at 10:00AM & 1:00PM (ENGLISH)
FEATURING LITTLE RED THEATRE
TICKETS: $7 EACH
SUITABLE FOR: GRADES JK – 3
The tale of Goldilocks is about the surprising discoveries that curiosity brings. The strikingly simple plot lines and rich fairy tale flavour allows us to create a colourful pallet of folk music from the Ottawa Valley with a contemporary script combined with some very silly and witty kid storytelling. Welcome to the world of a confused narrator, a perky girl and three cute, environmentally concerned Canadian bears. Goldilock's curiosity never fails to charm!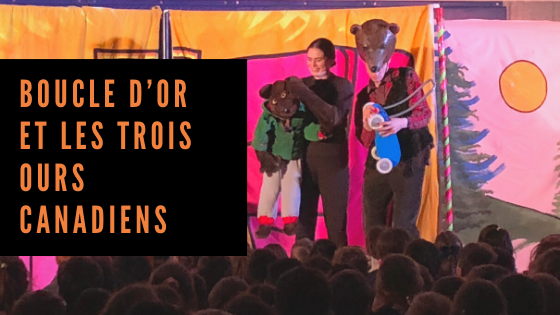 Le conte de Boucle D'or est un conte simple mais riche en thèmes. Il décrit les périples derrière la quête du savoir, elle-même alimentée par une curiosité débordante. Ce récit a une saveur de conte de fées et nous permet de créer une palette colorée de musique folk provenant de la vallée d'Ottawa avec un son contemporain. La pièce combine de l'humour satirique pour enfants avec un narrateur désorienté qui nous guide à travers cette histoire et trois oursons mignons et respectueux de l'environnement. Boucle D'or ne manque jamais de nous charmer!